Effortlessly raise money for Feline-N-Feathers SW FL Rescue Sanctuary using Gumdrop! Gumdrop shows coupons in real-time wherever you shop online and makes a donation for every purchase. You save, we donate.
Feline-N-Feathers SW FL Rescue Sanctuary
LIFETIME AMOUNT RAISED
$0.00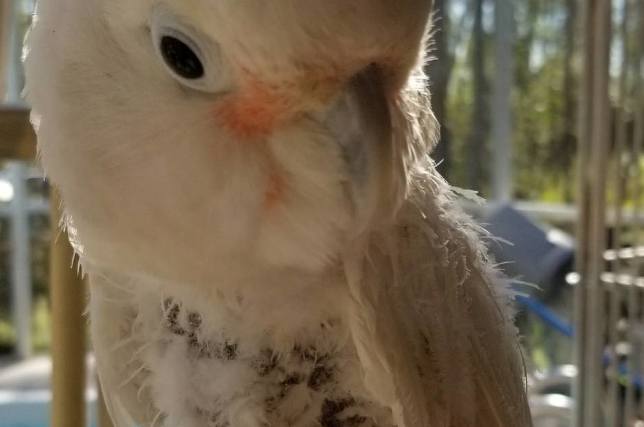 About Feline-N-Feathers SW FL Rescue Sanctuary
I am responsible for Rescued 75 Exotic Birds and 17 Senior Cats in Rural, Unincorporated Naples, FL. There are NO volunteers that help me with the care and upkeep of these wonderful exotics and I have financially been supporting my Rescue with ALL animals except a few donations here and there over the years its been all on me. I am on a limited income, permanently disabled, having 23 spinal surgeries I cannot do the lifting, moving that I used to do BUT I sure try. I may pay for it later but the Animals give me peace even tho they talkback...LOL!! Every once in awhile I just need that extra set if hands to help out. They are My Kids, My family, I would do anything for them to make sure they have what they need and I'll do without and I have for years. I cannot keep it up it's drained me financially a long time ago, no complaints tho. People surrender their Animals & Birds, promise to support them and it of course NEVER comes. I however, cannot just stop caring for them. They must be isolated at first for 30-90 days to not containment or bring disease to the rest of my birds, cultures, medical & treated accordingly with meds or whatever is deemed necessary. Then and only when they are clear I will bring into be with the rest of the Birds. Right off the top testing and medical can be at MY cost $100-500+ vs $300-3000+. Their pellets are $62/ea 40# I go thru 1 bag a week. Thats NOT incl Whole nuts in-Shell m.in-Zhell I would consider myself an expert in the field having 36 years experience. I've been an Avian & Domestic Vet Tech for 18 years concentratic recently on the Avian which GREATLY helps me now and I work in conjunction with my Certified Avian Vet. I used to breed Exotics both Birds & Reptiles for 25 Yrs and I'm not opposed to breeding as many are because IF breeding stops the Exotic species WILL cease to exist. We MUST however have education, guidelines and oversight for ALL breeders & rescues, sanctuary's. I see too many where Birds need Rescuing from where they are being kept due to lack of knowledge or owners who refuse to change their thinking. I found a need for the Rescue as I was always having people drop off animals at my door Wildlife, cats, dogs, birds, reptiles, even ocean life ...Big and small it didn't matter I've done it all over the years and I've ALWAYS had a way with animals my parents tell me since a small child, telling me I take after my dad's sister!! I started my Rescue back in '07 becoming a 501c3 Charity💖 in '09. My goal is to build a Hurricane rated Free Flight Enclosure 150'x40'x30 Double Wire, have 2 ext off the main bldg. Large birds in the main bldg, smaller & medium birds in the Right bldg & storage, exam & isolation rms in the Left bldg. Water lines, auto watering system. Cost approx. $100K. I had ALOT of damage after Hurricane Irma and my Property MUST be cleaned up. Im still using bottled water as my well is containminated. Trying to get contractors out here is a joke. My home is also severely damaged from the roof down, inside out, front to back. Debris is STILL everywhere vegetative & non-vegetative, trees need to be Taken down, branches high up cut down, branches on the ground cleaned up, damaged cages all taken down. Everything needs to be Taken to the front of the property. Insurance will NOT pay for this!! My trailer was 18'x7' (extra tall) $8700+ partial donations from HD for customization (took me 5 yrs to save for it) enclosed cargo trailer was broken into used a crow bar tore into both doors jacked them out of shape, the insurance company totalled it instead giving me $1175 for a brand new trailer $9200. I can't even buy a USED tiny trailer with holes in it for that !! I use this for Bird Item storage, my previous trailer was set up for overnight accommodations to sleep in with a bathroom, mini kitchen but allowed me to examine birds also. I lined the walls with fiberglass panel's for easy cleanup, AC, windows, venting, allowed me to roll up a cage and secure it properly. The Senior Cats are kittens that I once fostered for another Rescue on the East Coast of FL called the FHS. I was NOT the only one this happened to But the President of that organization and I USED to be very good friends BUT when it became more about the money than the care of the Animals many of us parted ways. I had back in '95 68 kittens and teenage cats she refused to take back, NOT provide support in any way so they became mine to care for. I adopted out a FEW but for the most part they were Black, Black-White, Brown Tabby no one wanted to adopt them. Here I am going into 2018 only 17 remaining if the 68 Original I had fostered for FHS. I stopped taking in kittens or cats 8 years ago. They are My kitty CREW, they WILL LIVE out their lives until they go Over the 🌈Bridge .... We WILL ALL meet up one day and I will have LOTS of company !! IF you can see it in your Hearts to Donate to My #1KittyCrew🐈and #1BIRDCREW🐦 They would GREATLY Appreciate it PayPal.me/PLZDonate1BirdCrew Thank You Beth and My Crazy #1BIRDCREW 🐦🐥🐈
Address
4030 27th Ave NE, Naples, FL 34120
Website
TOGETHER, WE'VE RAISED
$0.00
| | | | | |
| --- | --- | --- | --- | --- |
| 2018 Total | $0.00 | $0.00 | $0.00 | $0.00 |
| January | $0.00 | $0.00 | $0.00 | $0.00 |
| February | $0.00 | $0.00 | $0.00 | $0.00 |
| March | $0.00 | $0.00 | $0.00 | $0.00 |
| April | $0.00 | $0.00 | $0.00 | $0.00 |
| May | $0.00 | $0.00 | $0.00 | $0.00 |
| June | $0.00 | $0.00 | $0.00 | $0.00 |
| July | ... | ... | ... | ... |
| August | ... | ... | ... | ... |
| September | ... | ... | ... | ... |
| October | ... | ... | ... | ... |
| November | ... | ... | ... | ... |
| December | ... | ... | ... | ... |
How it works...
You Shop.
Shop at your favorite stores through Goodshop - we've partnered with over 5,000+ of the top online stores like and others.
You Save.
Save big on all your purchases with over 500,000 easy-to-access coupons that we have listed on our site.
We Give.
Once you've made a purchase with one of our participating stores, we make a donation in your honor to Feline-N-Feathers SW FL Rescue Sanctuary . Over $12 million has been raised so far!