Effortlessly raise money for People in need for accommodations for spinal failure using Gumdrop! Gumdrop shows coupons in real-time wherever you shop online and makes a donation for every purchase. You save, we donate.
People in need for accommodations for spinal failure
LIFETIME AMOUNT RAISED
Raised by 1 person in 363 days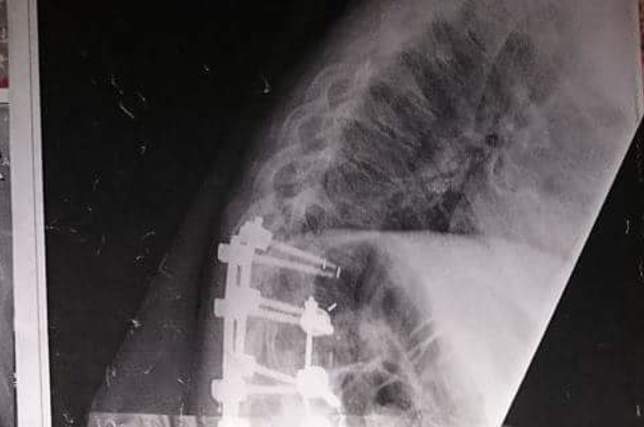 About People in need for accommodations for spinal failure
Hi, My name is Valerie Snider. I have been battling spinal problems since I was 14 years old. My initial diagnosis was severe scoliosis. I am one in 57 people in the world that they installed a Zilke Instrument to try to correct the double curve in my spine. At the tender age of 14, I was placed to make a life or death desicion. I wanted to help humanity to discard this diease, and help others. At the time they were experimenting with rods to try to correct scoliosis. I am now in my late 40's, penniless, and lost in the system. They now call my situation, "Complete Spinal Failure "! I also have several other conditions that Doctors did not know with my first diagnosis. Plus the wear and tear on my body as the years progress. I have over 5 feet of scars on my body. I am documented and used for experimental surgeries. This is just some of the hardware I have. My spine has 5 rods, 30 screws, bolts, staples, plastic cages, cadabra bone. I have a full left knee replacement. My left tybia has donor bone to correct a sever rotation. I need another full knee replacement in my right knee. My most recent donation to help others like me was an expermental surgery to correct the blood flow to my heart that the hardware in my spine was cutting off. We are trying to get this approved by the FDA. It is called," ILLIAC STENTS". The reason I am asking for donations is to help pay for accomidations. I have to travel a long distances to hospitals and Doctors that are able to help me. I live in conic pain, and everyday is a battle. I do not want anyone to feel Sorry for me, because I am blessed with the life I have. Even if it is a very painful and hard one. I have to depend on my Mother, and friends to get me to these appointments. I am asking for help because I am at the point where I have to stop every 60 miles and get out of the vehicle to move. Thus it takes a great deal of time to reach these hospitals that are able to help me. I no longer have funds to stay at Motels. I have tried my hardest in life to give to irradicate these dieases. I know in my heart in the future that they will find the key to help people in similar situations. It might not be in my life time, but it will happen! I kindly ask anyone, and everyone if they have a few dollars that they can donate to help me continue making these appointments without the fear of not having a place to sleep in to please find it in your heart to help me. Thus, I will in return continue the up hill battle to fight the spinal conditions I have. So people like me will have a brighter future. Thank you to all that can help! God Bless, Valerie Snider .
TOGETHER, WE'VE RAISED
$0.00
| | | | | |
| --- | --- | --- | --- | --- |
| 2018 Total | $0.00 | $0.00 | $0.00 | $0.00 |
| January | $0.00 | $0.00 | $0.00 | $0.00 |
| February | $0.00 | $0.00 | $0.00 | $0.00 |
| March | $0.00 | $0.00 | $0.00 | $0.00 |
| April | $0.00 | $0.00 | $0.00 | $0.00 |
| May | $0.00 | $0.00 | $0.00 | $0.00 |
| June | $0.00 | $0.00 | $0.00 | $0.00 |
| July | $0.00 | $0.00 | $0.00 | $0.00 |
| August | $0.00 | $0.00 | $0.00 | $0.00 |
| September | ... | ... | ... | ... |
| October | ... | ... | ... | ... |
| November | ... | ... | ... | ... |
| December | ... | ... | ... | ... |
How it works...
You Shop.
Shop at your favorite stores through Goodshop - we've partnered with over 5,000+ of the top online stores like and others.
You Save.
Save big on all your purchases with over 500,000 easy-to-access coupons that we have listed on our site.
We Give.
Once you've made a purchase with one of our participating stores, we make a donation in your honor to People in need for accommodations for spinal failure . Over $12 million has been raised so far!