You are now active for American Eagle Outfitters. Make a purchase sometime today
, and you'll be entered to
Win 100% Cashback.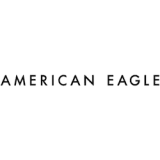 American Eagle Outfitters Coupons, Deals and Promo Codes
7
Verified American Eagle Outfitters Coupons
| | |
| --- | --- |
| Total Offers | 32 |
| Sitewide Coupons | 7 |
| Best Discount | 50% off |
Shop at American Eagle Outfitters
Top American Eagle Outfitters Shopping Hacks

Join AEO Connect Rewards and earn free jeans, bras, shipping & more. $1 = 10 points. 2500 points = $10 reward.
Buy five jeans and get one free if you're a member of AEO Connect Rewards
Buy five bras and get one free if you're a member of AEO Connect Rewards
You can return an item at any time if you're not fully satisfied. Unlike most retailers, there's no time limit!
With an AEO credit card you'll get free shipping, $20 off your first order, a 20% off birthday coupon and more.
Expired Coupons
Shop NEW Women's Dream Jeans in Curvy!

Shop NEW Men's AirFlex Jeans in Athletic Fit!

Shop the Men's Super Soft Icon Tee!

Women's Soft & Sexy Tees are Back! Shop Now!

Shop NEW Arrivals at AE.com!
Even more American Eagle Outfitters Shopping Tips
Do you like to share? Maybe you should, because American Eagle wants to share great deals through their AEO Rewards program. By simply sharing your email with AE you can join the AEO Rewards program and save 15% the whole month of your birthday at AE and Aerie. You will also be able to take advantage of getting one pair of jeans free for every five pairs you purchase, getting one bra free for every five that you purchase, and much more.

With today's trend of mobile connectivity at an all-time high, you can sign up for American Eagle mobile alerts. These alerts will keep you apprised of fun AE events, new store openings, and the very latest arrivals of the styles you love. You'll be in the know have access to everything American Eagle.

Take advantage of American Eagle's and Aerie's top deals by keeping track of clearance items and sales like the Buy One, Get One 50% sale, which is currently running on all AE jeans and joggers with only a limited time before this offer expires. American Eagle deals are just around the corner, so check back often.

If the AEO Rewards program isn't enough, there is an option for the AEO Connected Credit Card. You will get 20% off with your first purchase using the Card. You will also have access to free shipping when you use your card to shop. There are many other benefits to having an AEO Connected Credit Card, so be sure to check it out.

With more ways to shop, it is easier than ever to find the styles you want from American Eagle. You can shop on the site, in the store, or on the AE Mobile App. Exclusive deals that are only available when you purchase through the app are something to look out for as well. Don't forget to stop by the AEO or Aerie Blogs for all the best fashion conscious blog posts.
American Eagle Outfitters at a Glance
It all began in 1977 with the conception of what is now a powerhouse in the fashion industry. With a flair for setting trends and the capability to produce high-quality clothing, American Eagle continues to lead the way for the current and future youths of the world. Once a brand that was exclusive to America, AE has become a global phenomenon within the clothing industry. AE values its employees and customers alike and promotes the ability to express individuality with their fashionable clothing lines.
American Eagle Outfitters was founded by Jerry and Mark Silverman, in Pittsburgh, Pennsylvania in the year of 1977. Though AEO's casual leisurewear has persisted into our more modern times, some of the past offerings of the company has changed through the years. In its beginnings, AEO didn't just recklessly throw around the word "Outfitters," as the word actually defined the purpose for which the clothes were originally designed. The word "Outfitters" is synonymous with the outdoors. While the Silverman brothers where a part of the company, AEO manufactured quality clothing and equipment specifically designed for mountain climbing, camping, and hiking.
Since 1980 the Schottenstein family had owned a 50 percent stake in the company but took controlling interest in American Eagle Outfitters when they bought out the Silverman family's shares of the business. This shifted the focus of AEO towards producing what is now known and widely accepted as the American Eagle style we all see today. AE continued to progress as it turned its attention towards the 18 to 32 age range between the years of 1995 and 1996. Within this timeframe, there was an added push to gain the attention of more women to the American Eagle brand.
Furthering the attention of women, American Eagle implemented a lingerie line know as Aerie in early 2006. The launch of Aerie was more than a simple line of lingerie. It was the start of something big that came to fruition in early 2014. At this point, having become two brands, American Eagle and Aerie both supported the slogan #AerieREAL. The purpose of standing behind this slogan was to uphold the company's beliefs in diversity, authenticity, acceptance, and empowerment by saying no to the airbrushing of their models' pictures. 2014 was also the year that American Eagle committed themselves to the principle of social responsibility, by taking actions to manage their overall impact on society better. American Eagle implemented the AE Better World initiative as a way to actively give back. American Eagle along with the AEO Foundation work to help in the areas of conservation of the environment, the empowerment of youth, and equality for worker rights.
As American Eagle continues to be an advocate for youth worldwide, they have continued to embrace the #WeAllCan campaign to help further values such as diversity, acceptance, and the empowerment of today's youth. American Eagle stands firm in its beliefs that individuals should not stop the pursuit to find who they truly are, and encourages this pursuit to find one's genuine self.
Shipping & Return Policies
Shipping and Delivery
American Eagle's shipping policies include a variety of options that are influenced by the total purchase price, method of payment, types of apparel, and the product type. Standard shipping is free as long as the total purchase price is $50 or more, a gift card is used, or if bras and swimwear are purchased. Two Day shipping is a flat $15 for all purchases, and Overnight shipping is a flat $20 for all purchases.
Returns
American Eagle's return policies are relatively simple. You can either return or exchange the purchase in-store or by mail with the receipt minus any shipping costs.
Using Coupons for American Eagle Outfitters
You can apply coupons & promo codes to your purchases on ae.com at checkout by following the steps below:
Add the clothing or accessories you wish to purchase to your American Eagle Shopping Bag.

When you have finished shopping, click the American Eagle Shopping Bag icon in the top right-hand corner of the site.

Once you are at checkout, use the box that is designated for the coupon's promo code that reads "HAVE A PROMO CODE?" to enter your code and then click the "APPLY" button. When you have applied the promo code, another box will appear below the one you just used.

If you have other promo codes that apply to your purchase, you can follow the previous step and add those to your purchase as well.

If you wish to include a free gift receipt, you can do so by clicking the provided box.

If you have an American Eagle account, you have the option to sign into your account. If not you will need to fill in your information, choose your payment method, and choose shipping options.

Don't forget to enter your American Eagle Rewards number in the provided box.
American Eagle Outfitters Sales
American Eagle passes along savings to its customers in a variety of ways.
Coupons can be available several times a month to help you save on your AE purchases. These coupons can provide you with a 20% to 40% off, or a dollar amount off from $10 to $150. Specific requirements and limitations apply to most coupons. Other offers that American Eagle often passes along to you are shipping discounts, a 40% to 60% off of clearance items, and the common Buy One Get One 50% sales.

American Eagle is synced with the seasons. The clothing they have available, especially in the store, usually mirrors the weather conditions in their respective locations. They typically offer discounts on clothing as it comes out of season. AE works to keep you apprised of sales throughout the year with the AE Mobile App, the American Eagle website, and by emailing their AE Rewards members.

Another great way to stay on top of sale items at American Eagle is to visit the clearance page of their site regularly. Here you will find the discounted clothing, shoes, and accessories you can't live without. Once on the American Eagle clearance page, you can shop by gender and then you have plenty of options to filter and sort so you can narrow down to exactly what you are looking for.

Being aware of the best times to find sales can help you when looking for savings. Some of the most significant sales are timed around major annual holidays. If you are an advocate for shopping online, then Cyber Monday will be right up your alley. Cyber Monday deals are usually site-wide discounts that apply to everything you purchase as opposed to specific sales items.

You can pretty much bet on all of the three day weekend holidays that are recognized throughout the year having clothing sales. Making use of that extra day off to shop could save you big time, and you can get the clothing you need for a modest price. Also, make it a point to shop during the back to school season to find great deals on clothing for the whole family. Taking the time to get a better idea of when the best clothing sales take place during the year will improve your chances of finding incredible savings.
How to Shop at American Eagle Outfitters
American Eagle offers a variety of today's top styles for men and women. Women's tops, jeans, jackets, dresses, jumpsuits, and perfumes are just a few of what AE has to offer for women. Men's tops, jeans, jackets, underwear, and cologne are only a few of what AE has to offer for men. Several of the offerings for women from Aerie are lingerie, swimsuits, bras, bralettes, undies, sleepwear, and beauty products. As you can see between American Eagle and Aerie, there is no shortage of items available for your every need.
When shopping for your teenage son or daughter, American Eagle and Aerie has a vast selection of the highest quality clothing that consists of the latest trends available for you to choose from. Always in sync with the seasons, you can find that perfectly fitted jacket, hoodie, or sweater when you need it. The in-store experience at AE is unquestionably one of the most fun shopping experiences around, but the user-friendly experience of shopping at ae.com cannot be overlooked.
The American Eagle and Aerie websites are designed to provide you with all the information you need about the brand and the newest clothing trends they have available. These sites are set up to allow you to find and purchase what you are shopping for with ease. A few tips for making your online shopping easier are as follows:
Use the features that are made available to you on the site:
Place the items that you are interested in into your cart for safe keeping:
This way you can continue to shop for other items without losing what you have already found.
You can always remove an item if you choose not to purchase it and that is easier than having to search for it all over again.
If you are having trouble finding something or difficulty checking out, don't hesitate to use the chat feature for help. The people behind the chat get paid to make your life easier, so take advantage of this option.
The youth is our future, and American Eagle's dedication to promoting individuality will continue to be a positive influence with their ever trending fashions for years to come.
When ordering online, you will need to consider sizing. Being knowledgeable of how to appropriately size yourself or your children is of the utmost importance when shopping for clothing online. American Eagle offers information regarding sizing on their site. Let's break down a few of the ways to measure your body to ensure a correct fit, so you can confidently order the right size and avoid having to make returns or exchanges in-store or online.
How to Measure
Women's:

Tops:

With the arms relaxed at the sides, measure completely around the fullest point of the bust.

Bottoms:

Measure around the natural waistline while keeping the tape a little loose.
Standing with feet placed together, measure around the fullest point of the hips.
Measure starting at the top of the waistband down to the leg seam for the rise.

Undies:

Standing with feet placed together, measure around the fullest point of the hips.

Men's:

Tops:

Measure the neck around the middle and keep the tape a little loose.
Measure the chest at the fullest part under your arms.
Measure the arms while bent 90 degrees at the elbow with the hand on the hip. Measure from the center of the neck across the shoulder to the elbow and then to the wrist.

Bottoms:

Measure around the natural waistline while keeping the tape a little loose.
While wearing well-fitting pants, measure from the seam of the crotch to the bottom of the leg.

Underwear:

Measure around the natural waistline while keeping the tape a little loose.
You can rest assured and have confidence that when you purchase from American Eagle, you are getting the best possible quality in clothing available in today's market. From their fashionable jeans to the exclusive Aerie line for women, American Eagle boasts a wide selection of clothing that is comfortable, stylish, beautiful, and durable. American Eagle provides you with the value you deserve in a clothing line that helps you express your individuality as only you can.
American Eagle also offers what they call their Apartment section of products that consists of bedding, accessories for everyday use, and decor. You can find anything from an AE cactus lamp, candles, umbrellas, desk accessories, fans, and doormats to list a few of the items available from the American Eagle Apartment line. You can take AE's style to a whole new level and dress your apartment to impress and completely individualize your living space to make it all your own.
American Eagle operates more than 1,000 stores in the United States, Mexico, Canada, Hong Kong, and China and they also ship worldwide to 81 countries online. There are 200 plus international locations that are run by licensees in 25 different countries where the American Eagle and Aerie brands are available. With so many ways to shop American Eagle around the globe, it couldn't be easier to find the clothing, shoes, accessories, and the style for your living space that you have been looking for. Be the unique person you are meant to be and let American Eagle be a part of your journey.
32 Offers Available
Verified by Goodshop
Coupon Type
Discount Type
About American Eagle Promo Codes
Save with American Eagle coupons from Goodshop and slip into a new pair of jeans. The team of fashion-focused coupon curators at Goodsearch looked up the best deals you can get while supporting your favorite charity and found discounts like 50% off the Fall collection and free shipping. With your American Eagle coupons you'll save on items like casual apparel, cologne, and for the sport in you, vintage NBA tees or joggers. Get deep savings whenever you start at Goodsearch with an American Eagle promo code and fill your wardrobe with clothes you'll love to wear. Shop, save, and donate with American Eagle coupons.
American Eagle Outfitters Store Info
Never miss a coupon from American Eagle Outfitters!