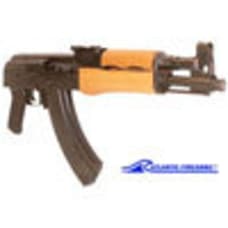 Atlantic Firearms Coupons, Deals and Promo Codes
New deals are being added every day - August 03, 2021
Atlantic Firearms Shopping Tips
Subscribe to Atlantic Firearms' mailing list to stay updated on the latest news, goods, deals, updates, giveaways, and specials.

Browse the firearms blog to learn about the newest items and make an informed choice before placing an order.

Do you have a product in mind? Simplify your shopping experience by searching for a manufacturer name.

Check out the many videos on the Atlantic Firearms' website, such as new product demonstrations, helpful instructional videos, and how to buy guides.

Follow Atlantic Firearms on social media to stay updated on new products, the latest videos, restocked firearms, and much more.
More FAQs for Atlantic Firearms
What Payment Methods Can I Use?
Atlantic Firearms accept Visa, Mastercard, and Discover, and they will not charge a credit card fee.
Can I Buy a Product on Layaway?
Yes. Atlantic Firearms provides layaway plans for purchases over $400. Also, customers must pay 25% of the total firearm cost and a deposit. They will have 45 days to complete the payment. Each listing will state if an item is available as a layaway purchase.
How Can I Check If a Firearm is Legal in My State?
Atlantic Firearms encourages all its customers to check with their local FFL dealer for legal information before placing an order.
How Much is Shipping?
The products you buy and the quantity will determine the shipping costs. For example, customers purchasing multiple firearms on the same order will receive a flat-rate fee of $30. If you are ordering a large rifle, pay $65 per product. Visit Atlantic Firearms' shipping page for more information.
What is the Return Policy?
Manufacturers will cover all product warranties. However, if you have a problem, Atlantic Firearms can help to resolve it as soon as possible. Email all return requests to provide Atlantic Firearms with a written history of your order. It is important to note that there is no warranty available for used guns.
How Do I Subscribe to Atlantic Firearms' Mailing List?
Scroll down to the bottom of the Atlantic Firearms' website and click Subscribe. Enter your email to sign-up for the mailing list. Then, receive the latest products, news, offers, specials, and updates in your inbox. Where Can I Find the Best Atlantic Firearms' Deals? Browse the many Atlantic Firearms deals, promo codes, and coupons at goodshop.com.
Subscribing to the distributor's email newsletter will provide access to the website's biggest and best deals. Plus, visit their clearance center to review the many promotions, such as demo, closeout, and gunsmith specials. Most of the firearms available for sale in this section will have featured in Atlantic Firearms' testing and demonstration videos. It is a great way to save money on a high-quality firearm.
Can Atlantic Firearms Provide Dealer Pricing?
Atlantic Firearms can provide discounts on various products for dealers. Visit their Dealer Accounts tab, which you will find at the top of the distributor's website. Follow the directions. As a dealer, view dealer prices after you have logged in.
Do They Have a Blog Section?
They sure do. The firearms blog will provide regular updates on firearms and accessories in stock. Plus, it is a great way to learn more about a product to make an informed choice before placing an order.
Can I Follow Atlantic Firearms on Social Media?
Follow Atlantic Firearms on Facebook, Twitter, and Instagram. It will allow you to remain updated on the latest company news, new arrivals, restocked products, specials, and much more.
Don't forget to subscribe to Atlantic Firearms' YouTube channel and watch product reviews and demonstrations to make an informed decision before placing an order.
How Can I Contact Atlantic Firearms?
There are many ways to contact Atlantic Firearms with a question or problem. Call (410) 352-5183 or fax (410) 352-3374.
Alternatively, email [email protected] or mail:
Atlantic Firearms, llc10337 Bunting Road Bishopville, MD 21813
How to Shop at Atlantic Firearms
Find the Right Firearm at Atlantic Firearms
Atlantic Firearms provides its customers with quality sporting goods at value for money prices. Thanks to its small operating expenses, the federally licensed firearms dealer and distributor offers the lowest possible price on its goods and services. Plus, each transaction complies with federal and state laws.
Save even more money by browsing the many coupons, promotional codes, and deals available at Goodshop.