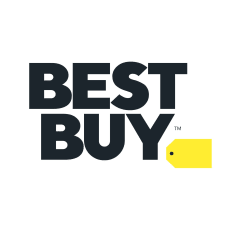 Best Buy Promo Codes, Deals and Printable Coupons
25 Verified Coupons for
December 09, 2022
Enjoy Up to 3 Free Months of ICloud+ With Order of Select Items
expires: 09/05/2023
Used 13 times
Last Used about 8 hours ago
Up to 4 Free Months of Apple Arcade With Order of Select Gaming Products
expires: 09/05/2023
Used 7 times
Last Used about 17 hours ago
4 Free Months of Amazon Music Unlimited With Order of Select Items
expires: 08/27/2023
Used 30 times
Last Used about 17 hours ago
30% Off Select PMD Beauty Skin Care Products
expires: 12/24/2022
Used 204 times
Last Used about 17 hours ago
Save $30 on Lenovo Smart Clock With Google Assistant and Charging Dock Was: $89.99 Now: $49.99
expires: 08/10/2023
Used 7 times
Last Used 14 days ago
Try Showtime Free for 30 Days, Then $4.99 Per Month for Six Months
expires: 07/30/2023
Used 3 times
Last Used 2 days ago
Xbox Game Pass for PC - Access To More Than 100 High-Quality PC Games
expires: 12/31/2022
Used 5 times
Last Used 2 months ago
1 Month Pandora Plus or Premium With Select Items
expires: 02/26/2023
Used 7 times
Last Used 9 days ago
18 Month Financing on Appliance and Geek Squad Orders $599 and Up With the Credit Card
expires: ongoing
Used 37 times
Last Used about 1 month ago
24 Month Financing on Home Theater and Geek Squad Orders $999 and Up With the Credit Card
expires: ongoing
Used 31 times
Last Used about 1 month ago
24 Month Financing on Select Exercise Equipment and Geek Squad Orders $799 and Up With the Credit Card
expires: ongoing
Used 25 times
Last Used about 1 month ago
12 Month Financing on Storewide Orders $299 and Up With the Credit Card
expires: ongoing
Used 37 times
Last Used about 1 month ago
24 Month Financing on Unlocked Phone and Geek Squad Orders $649 and Up With the Credit Card
expires: ongoing
Used 23 times
Last Used about 1 month ago

Shop LG Microwaves With Free Contactless Curbside Pickup
expires: 12/31/2022
Used 15 times
Last Used about 1 month ago
Grooming and Oral Care For All Stages Of Life and Free Contactless Curbside Pickup
expires: 12/31/2022
Used 26 times
Last Used about 1 month ago
Sign Up to Receive the Latest Deals and More
expires: ongoing
Used 36 times
Last Used about 1 month ago

Save on Select KitchenAid Small Appliances and Cookware
expires: 12/31/2022
Used 10 times
Last Used 3 months ago
Lenovo Smart Clocks Starting at $29.99
expires: 12/31/2022
Used 11 times
Last Used about 1 month ago
Memory Cards Starting At $9.99
expires: 12/31/2022
Used 33 times
Last Used 14 days ago
Save on Microwaves and Free Contactless Curbside Pickup Available
expires: 12/31/2022
Used 16 times
Last Used 3 months ago
Save on Mini Fridges For Your Food Storage Solution
expires: 12/31/2022
Used 25 times
Last Used about 1 month ago
Save On Select Mini Fridges and Free Contactless Curbside Pickup
expires: 12/31/2022
Used 14 times
Last Used about 1 month ago

Save On Select GE Microwaves and Free Contactless Curbside Pickup
expires: 12/31/2022
Used 16 times
Last Used about 1 month ago
Save on Beard Maintenance Essentials
expires: 12/31/2022
Used 22 times
Last Used about 1 month ago
Save on Top Deals and Featured Offers
expires: ongoing
Used 33 times
Last Used about 1 month ago
Coupon Code for 20% Off One Regular Priced Small Appliance
expires: ongoing
40% Off Open-Box Appliances
expires: ongoing
Used 4 times
Last Used 12 days ago
Expired Coupons
Save $50 On Sony 55" Class X75K Series LED 4K Smart Google TV, Now: $499.99

Save $20 On TCL 40" Class 3-Series LED 1080p Smart Roku TV Was: $219.99 Now: $199.99

Up to $300 Off Samsung Galaxy S22 Series

Free Back-Up Camera When You Buy A Select Pioneer 6.8' Digital Media Receiver

Sengled Video Sync Wi-Fi TV Strip Was: $119.99 Now: $69.99
Best Buy at a Glance
Best Buy has come a long way in providing consumers with tech and electronics since it first opened in 1966. For starters, back then, it wasn't even called Best Buy.Richard M Schulze and James Wheeler opened a store dedicated solely to high-fidelity stereos and called Sound of Music. By 1978, they had nine locations throughout Minnesota. It wasn't until a seeming case of bad-luck that the music-tech store started to become the electronics mega-retailers we know today.
In 1981, a tornado passed through Roseville, MN, where the largest and most profitable Sound of Music store was located, causing considerable damage to the store, but leaving the storehouse intact. In an attempt to salvage what business he could, Schulze had a blowout sale in the parking lot of the destroyed building, offering excess and damaged stock at discounted rates, calling them "best buys." In those four days, the Roseville store made more money than in a typical month. Soon after, the name and business strategy were officially changed.
Best Buy now has 997 locations in the US, Canada, and Mexico as of February 2019 and is in the top 100 of the Forbes 500 list of largest US corporations by total revenue. Their inventory now ranges from appliances to mobile phones to musical instruments - they even own an independent music production company. Best Buy was also the first third-party retailer to carry the Apple iPhone.
Best Buy's subsidiary, The Geek Squad, also offers electronics repairs and consultations. This team of experts, along with the in-store consultants, have become a core part of the Best Buy shopping experience and were integral in the development of a second more recent rebranding. In 2018, Best Buy adopted a new logo, focusing less on the iconic yellow sale tag in favor of the now easily recognizable blue shirts of Best Buy employees (appropriately also known as "Blue Shirts"). The stated goal was to emphasize the importance of Best Buy's employees and corporate culture.
Best Buy is proud of its corporate culture and involvement in the community. Initiatives like Best Buy Education seek to provide schools and educators with Ed-Tech, and Best Buy Business members have access to business-related expertise and services. Best Buy was accused of unethical deforestation of the Canadian taiga by Greenpeace in 2007, but has since redoubled their efforts at sustainability. The subsequently formed Greener Together initiative sought, in part, to reduce consumer waste, and Best Buy implemented more recyclable packaging and made electronics and battery recycling available to customers. They are currently pursuing a goal to collect 1 billion pounds of recyclables. Greener Together also aimed to increase energy efficiency, and now has a place on the list of the EPA's top 50 green-power purchasers. Barron's also named Best Buy the Most Sustainable Company in the United States in 2019.