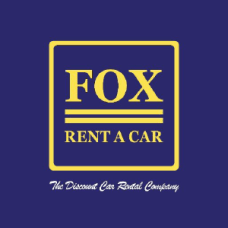 Fox Rent A Car Coupons, Deals and Promo Codes
11 Verified Coupons for June 18, 2021
20% Off Pay Now in California
expires: ongoing
Used 24 times
10% Off Select Car Rentals
expires: ongoing
Used 2 times
Coupon Code for 10% Off Miami Airport Bookings
expires: ongoing
Used 19 times
35% Off Pay Now Rates in Chicago
expires: ongoing
Used 30 times
Coupon Code for 10% Off 4-Door Jeep Wrangler
expires: ongoing
Used 10 times
Student Discount Available
expires: ongoing
Used 1 time
Save on Rental Deals
expires: 06/24/2021
Used 2 times
Coupon Code for 25% Off Any Order
expires: ongoing
Used 3 times
Coupon Code for 7% Off Sitewide
expires: ongoing
Used 1 time
Coupon Code for 10% Off Rentals
expires: ongoing
Coupon Code for 7% Off Select Rentals
expires: ongoing
30% Off Last Minute Rentals
expires: ongoing
Used 1 time
5% Off Phoenix Rent
expires: ongoing
5% Off for All First Responders
expires: ongoing
Used 1 time
5% Off for All Military & Veterans
expires: ongoing
Used 1 time
35% Off Rates
expires: ongoing
Used 46 times
35% Off Sitewide
expires: ongoing
Used 8 times
Fox Rent A Car FAQ
Q:

Where will I find the best deals? 🛍️

Fox Rent A Car's best deals are always available online.

Q:

Is there a rewards program? 🎁

Yes! With the Fox rewards program, you'll earn 4 points for every dollar you spend. You can redeem your points for SuperCertificates (like a gift certificate), or you can trade them in for FoxBucks to pay for your rental with Fox Rent A Car. Any Fox Rewards or Fox Bucks that are used for a cancelled reservation will be returned to your account within 48 hours of the cancellation.

Q:

Do they offer insurance?

Yes! Optional Insurance not required to rent a vehicle, though you can get additional information on it at the rental counter. Fox Rent A Car offers Rental Liability Coverage (RLP), Supplemental Liability Coverage (SLP), Personal Property/Personal Accident Coverage (PPC), Loss Damage Waiver (This is not insurance), and Mexico Insurance on vehicle rentals of economy through full size at a Fox location in Los Angeles, San Diego or Phoenix at the time of rental or prior to entrance into Mexico.

Q:

What is the minimum age to rent a car?

Drivers must be 19 to rent a car, unless they are on government order, in which case they can rent a car at 18. To rent a Camaro SS Hardtop (USAR), Camaro SS Convertible (XTAR), or Hemi Charger (PXAR), drivers must be 25 years of age.

Q:

What kind of documentation is required to rent a car?

Fox Rent A Car requires a valid driver's license with the name and photo on the license matching the renter listed on the reservation. This renter must be present at the counter. An international driving permit is accepted as long it is presented with a driver's license of the issuing country.

Q:

Can I rent add-ons like GPS and car seats?

Yes! Generally, booster seats, infant seats, and convertible seats are available for rent, though the type and availability cannot be confirmed beforehand. GPS is available to rent at all locations.

Q:

Does the car rental have roadside assistance?

Yes. Call (323) 593-7490 24/7 toll-free if you are stranded roadside.

Q:

Do they rent cars by the hour?

No. All rentals have a minimum 24-hour rental period.

Q:

Do they offer airport pick up?

Yes! You can get a shuttle to take you from the rental facility to or from the airport.

Q:

How do I contact customer service? 📞

To reach customer service by email, You can contact customer service through the online contact form available on their Contact Us page, which also has a full list of emails and phone numbers for new rentals, customer service, rewards, billing, and roadside assistance.

Q:

Are there any coupon codes or deals available for Fox Rent A Car? 🛍️

Goodshop has 17 active coupon codes and deals for Fox Rent A Car today.
Even more Fox Rent A Car Shopping Tips
Join the Fox Rewards program to earn points every time you rent a vehicle with Fox Rent A Car.

If you're a first responder or in the military, you can save 5% on all your rental fees.

If you prepay for your rental in full you can automatically save up to 12% off the regular fee.

Check the official deals page to see any Hot Deals that are currently running. Fox Rent A Car often pushes certain airports, destinations or car types allowing you to get huge discounts.

Sign up for the Fox Hot Deals email list to be the first to know about any new deals or sales events coming up.
More FAQs for Fox Rent A Car
What are the age requirements for renting with Fox Rent A Car?
You must be 19 years old to rent and drive a vehicle with Fox Rent A Car. The exception is those on government orders, who must be 18. For speciality cars, including Camaro SS Hardtop, Camaro SS Convertible and Hemi Charger, you must be 25 years old.
Where does Fox Rent A Car have locations?
In the United States, Fox Rent A Car has 20 airport locations including 8 in California, 5 in Florida, 2 in Texas, and airport locations in Las Vegas, Nevada, Phoenix, Seattle, Arizona, Washington, Colorado, Denver, and Utah. They also have affiliate locations in additional states.
Internationally, Fox Rent A Car has 140+ affiliate locations including Europe, Mexico, Asia, South America, and the Caribbean.
Can you pick up a car at one location and drop it off at another?
You are more than welcome to pick your rental up at one Fox Rent A Car location and return it to another. You will be charged a one-way rental charge, and each rental is subject to availability. There are drop-off charge rates that can vary from $20 to $500, and you are liable for those fees even if you end up returning the vehicle to its original location. Make sure you choose the correct drop off point when you sign your rental agreement.
Can you rent vehicles by the hour?
Fox Rent A Car requires all customers to rent vehicles for a minimum of 24 hours. Even if you decide to bring it back early, you will still need to pay for the entire 24 hours.
What's the benefit of paying for your rental upfront?
Use the Fox Rent A Car "Pay Now" feature to get up to 12% off the cost of your rental. Prepaying for your rental will save you time when you pick up your vehicle, and Fox offers a price reduction as an incentive to pay in advance.
How can you get the best deals at Fox Rent A Car?
Check out the deals section of the Fox Rent A Car website to find destinations and cars that are heavily discounted. Use those discounts, plus coupon codes from Goodshop.com to get the best savings possible at Fox Rent A Car.
Does Fox Rent A Car offer student discounts?
Yes. Fox Rent A Car offers a 20% discount to all current college students, if they are over 19. Students will need to register with Student Beans to claim this discount.
Does Fox Rent A Car have a rewards program?
If you frequently need to rent vehicles, then you should sign up for Fox Rewards. When you're a Fox Rewards member you will receive 4 rewards points for every dollar that you spend on rentals. You can redeem points for Fox Bucks, which will get you discounts on future rentals. Alternatively, you can redeem points for a SuperCertificate, which allows you to purchase gift cards at hundreds of retailers. Fox Bucks will add up quicker than SuperCertificate.
Does the rental cost include the cost of fuel?
No. Fox Rent A Car rentals do not include the cost of fuel.
Can you rent GPS units with your car rental?
Yes. Fox Rent A Car has PS units available at the cost of $7.99 per day at all locations except LAX and SFO, where they are $9.99 a day.
Can you cancel or change your reservation?
You can cancel or change your Fox Rent A Car reservation for free if you do so 24 hours prior to your pickup time, or more.
Does Fox Rent A Car accept an international drivers' license?
Yes. Fox accepts any foreign-issued driver's licenses but does not accept an international driving permit on its own.
Can you extend your rental period if you need the car for longer?
While the car is rented, you can extend the rental period by filling out the online extension request online. You will then need to wait for the team at Fox Rent A Car to review your request and either approve it or deny it. Any additional days past your original return date will incur a $20 per day rate increase.
Does Fox Rent A Car offer long-term rentals?
No. Fox Rent A Car does not rent their vehicles long term. The maximum period for all car rentals from Fox Rent A Car is 30 days.
Can someone else drive the car that you rent?
You can assign additional drivers to your rental, but they must meet all the same qualifications as the primary driver including age and licensing.
How to Shop at Fox Rent A Car
Car Rental Services for Less at Fox Rent A Car
Reserve your car rental online with Fox Rent A Car, with discounted rentals across the United States, and in many global locations as well. Combine Fox Rent A Car deals and special offers with coupon codes from Goodshop.com to get the best deals on your next car rental.
Visit the Fox Rent A Car page at Goodshop.com to find exclusive deals, coupons, and savings. Goodshop.com offers exclusive Fox Rent A Car coupon codes that you won't find anywhere else, so you'll always get the best price on vehicle rentals.
Someone
just earned Cashback on Fox Rent A Car