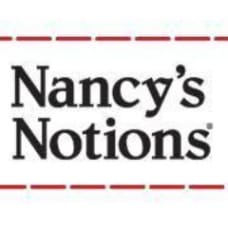 Nancy's Notions Coupons, Discounts and Promo Codes
7 Verified Coupons for
August 14, 2022
Black Friday Deals on Amazon
Coupon Code for Free Shipping With No Minimum Purchase
expires: ongoing
Used 157 times
Last Used about 11 hours ago
Coupon Code for 20% Off Basic Sewing Supplies
expires: ongoing
Used 19 times
Last Used about 1 month ago
Coupon Code for 20% Off Your Purchase
expires: ongoing
Used 10 times
Last Used 23 days ago
Coupon Code for Free Shipping on $65+
expires: ongoing
Used 7 times
Last Used 4 months ago
Coupon Code for Free Shipping When You Spend $65+
expires: ongoing
Used 3 times
Last Used 7 months ago
Coupon Code for 20% Off Select Fleece
expires: ongoing
Used 3 times
Last Used 10 months ago
Coupon Code for Free Shipping
expires: ongoing
Used 4 times
Last Used 4 months ago
Nancy's Notions Shopping Tips
Choose from a wide variety of sewing, embroidery, fabric, quilting, and craft products to start your next project.

Subscribe to Nancy Notion's mailing list to receive 15% off your first order. Plus, you will receive promotions and new product announcements in your inbox.

Spend more than $50 and receive free shipping in the United States.

Visit the clearance section to buy sewing, quilting, and craft products at a fraction of their original price.

Sign up for Nancy's Nickels to earn points each time you make a purchase. You can earn 5 points for every $1 spent and a $5 voucher after earning 500 points.
More FAQs for Nancy's Notions
Can I Visit a Nancy's Notions Blog?
Yes. You can read expert sewing tips, discover crafting and clothing ideas, check out talented makers, and learn more about Nancy Zieman on the brand's blog.
What is the Nancy's Nickels Program?
The Nancy's Nickels program rewards loyalty by providing customers with 5 points for every $1 spent. You can earn extra points by performing different actions, such as 250 points when opening an account.
When you earn 500 points, you will receive a $5 voucher or a $15 voucher after generating 1,500 points. You can join the Nancy's Nickels program after logging into your account or by signing up.
Why Subscribe to Nancy's Notions Mailing List?
New Nancy Notion's subscribers can receive 15% off their first order. Plus, you will receive regular email updates in your inbox on the latest products and special offers.
How Can I Save Money at Nancy's Notions?
Visit the clearance section on Nancy's Notions to buy quality sewing, embroidery, and crafting supplies at a low price. Also, you can save money by browsing the various coupons, deals, and promo codes featured on goodshop.com.
How Do I Apply a Promo Code at the Checkout?
Once you are ready to order, click View Cart. Next, enter your promo code in the Gift Card or Discount Code box at the checkout. Don't forget to click Apply to update the total with the discount.
Why Create a Nancy's Notions Account?
If you create an account with Nancy's Notions, you can review your order history at your leisure and enjoy a faster checkout experience for future orders.
Can I Use Express Checkout?
Yes. Place an order quickly by checking out an order via PayPal, Shop Pay, or Google Pay.
Am I Entitled to Free Shipping?
US customers can pay a flat fee of $5, and they will receive free shipping when spending more than $50 at Nancy's Notions.
What are the Available Shipping Options?
You can choose from three shipping options at Nancy's Notions. Opt for Standard and receive your item within 3-12 business days, or select Ground shipping to receive it within 3-7 business days. Express shipping means your item should arrive within 1-2 business days.
Is International Shipping Available?
Yes. Nancy's Notions can ship orders to various countries across the globe. Canadian customers can receive a flat shipping rate of $12 for all orders.
Can I Return an Item?
You can return an item to Nancy's Notions within 90 days of purchase. If the product is unopened and in a like-new condition, you will receive store credit.
You must pay for shipping when returning a product. Plus, it must include your order number, email address, shipping number, and phone number. While a printed receipt is preferred, it isn't essential.
How Long Will It Take to Process a Return?
Nancy's Notions will often process a return within 3 to 4 days after receiving a package.
Can I Follow Nancy's Notions on Social Media?
Yes. You can follow Nancy's Notions on Facebook, Pinterest, and Instagram. Also, you can subscribe to the brand's YouTube channel to discover free quilt block patterns and project ideas and tips. For instance, you could watch videos to improve your quilting skills, make fabric flowers, or create your own clothing.
How Can I Contact Nancy's Notions?
If you have a question for Nancy's Notions team, you can give them a call on (800) 833-0690, email [email protected], or mail:
1005 S Hughes St, Hamilton, MO 64644
Alternatively, you can click the Help button on the bottom right-hand corner of Nancy's Notions' website to send a message.
How to Shop at Nancy's Notions
Start Your Next Project at Nancy's Notions
Nancy Zieman founded Nancy's Notions to provide high-quality sewing, quilting, crafting, and quilting supplies. Customers can choose from dependable sewing machines, a wide variety of fabrics, and accurate cutting machines.
Save money on your next project by browsing the various Nancy's Notions coupons, deals, and promo codes at goodshop.com. Also, you could earn cashback at various brands, or you can donate the money saved to a charitable cause.