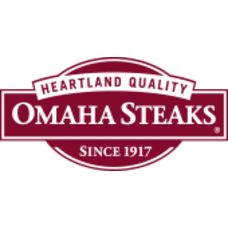 Omaha Steaks Coupons, Discounts and Promo Codes
5 Verified Coupons for
November 30, 2022
Updated November 29, 2022
Coupon Code for $30 Off $159 + Free Shipping for New Customers
expires: ongoing
Used 161 times
Last Used about 7 hours ago
Sizzle All the Way Sale - 50% Off Sitewide and Free Shipping on Orders $139+
expires: 12/23/2022
Cyber Monday - 50% Off Sitewide and Free Shipping on Orders $139+
Free Shipping on $139+ Orders
expires: 01/01/2023
Save With Shipped Free Packages
expires: 02/01/2024
Used 8 times
Last Used about 1 month ago
Coupon Code for $15 Off Your First Purchase of $159+ With This Omaha Steaks Promo Code
expires: ongoing
$30 Off Orders of $159 or More With This Omaha Steaks Coupon
expires: ongoing
$10 Off Your First Order of $139 or More
expires: ongoing
Used 2 times
Last Used about 1 month ago
Coupon Code for $10 Off Your Order With This Omaha Steaks Coupon
expires: ongoing
Used 2 times
Last Used 9 days ago
$30 Off Applying This Omaha Steaks Coupon
expires: ongoing
Coupon Code for $20 Off Your First Order Over $139 With This Omaha Steaks Promo Code
expires: ongoing
Used 2 times
Last Used 4 days ago
$40 Off Orders Over $159 by Applying This Omaha Steaks Discount Code
expires: ongoing
Used 2 times
Last Used 2 days ago
$25 Off $159+ Select Items
expires: ongoing
Used 2 times
Last Used about 1 month ago
$25 Off First Orders Over $159 When You Sign Up for Texts
expires: ongoing
Used 2 times
Last Used about 1 month ago
$25 Off Orders $159+ Site-Wide
expires: ongoing
$30 Off Home Value Freezer Filler With Free Dessert
expires: ongoing
Used 4 times
Last Used 3 days ago
$40 Off $159+ Sitewide
expires: ongoing
Used 6 times
Last Used 2 days ago
Coupon Code for 50% Off + Free Shipping + Free Gift on Orders $129+ Select Items
expires: ongoing
Used 7 times
Last Used about 1 month ago
$25 Off Orders $159+ With Promo Code
expires: ongoing
Used 5 times
Last Used about 1 month ago
Coupon Code for Free Shipping on Your Order
expires: ongoing
Used 7 times
Last Used 5 days ago
Expired Coupons
Black Friday - 50% Off Sitewide and Free Shipping on Orders $149+

Friends and Family: 50% Off Sitewide

Semi-Annual Sale - 50% Off Sitewide

Halftember: 50% Off Sitewide
Omaha Steaks Shopping Tips
Take your pick from a wide selection of steak cuts, such as ribeye, filet mignon, T-bone, and top sirloins.

Subscribe to Omaha Steaks' mailing list for the latest news, deals, and offers.

Join the Steaklover Reward program to secure points on every order, referral, or review.

Become a premium Steaklover Rewards member to earn extra points and enjoy exclusive rewards, deals, and birthday offers.

Receive free shipping and free chicken when spending $169 or more.

Customize a package to match your exact needs and budget, as they can choose from various meats, entrees, desserts, and wine.

Spend $99 or more to qualify for purchase and delivery.
More FAQs for Omaha Steaks
Do They Offer Seafood Options?
Besides meat, Omaha Steaks provides many seafood options to match its customers' needs, such as different varieties of fish and shellfish.
What Desserts Can I Order?
Take your pick from a wide selection of desserts at Omaha Steaks, such as cakes, cheesecakes, pies, tarts, chocolates, and more.
What Gifting Options Can I Choose?
You can find the perfect gift for a loved one, colleague, or employee at Omaha Steaks. For example, you could send a relative a gift basket on their birthday, or you could treat your other half to an exquisite steak on your wedding anniversary or for Valentine's Day.
Also, Omaha Steaks provides gifting options for different business needs, such as employee recognition, sales promotions, client appreciation, care packages, and much more.
If you don't want to choose a gift yourself, buy a physical gift card or an e-gift card for Omaha Steaks. Gift card amounts can vary from $5 to $500, and you can ship it to yourself or a recipient directly.
Why Subscribe to Omaha Steaks' Email List?
Once you've subscribed, you'll receive the latest promotions, updates, and news from Omaha Steaks. You'll receive $25 off an order over $159+, too.
What is the Steaklover Rewards Program?
Steaklover Rewards' members will earn points each time they place an order, review a product, refer a friend, download the mobile app, and more.
Why Become a Premium Steaklover Rewards Member?
Premium members can earn extra points on each order. They will receive exclusive birthday offers, premium rewards, and deals. Become a premium member by spending $300 or more within 12 months at Omaha Steaks.
What Shipping Methods Can I Select?
Omaha Steaks provides customers with the following four shipping methods:
Standard shipping
Express
Rush
Saturday Rush
You can ship anywhere across the United States using these four options. However, there are different shipping prices for Alaska, Hawaii, Puerto Rico, U.S. Virgin Islands, and Canada.
How Can I Save Money at Omaha Steaks?
There are different ways to save money at Omaha Steaks. For instance, you could browse the free shipping packages to lower your order total. Plus, if you spend $169 or more, you'll receive free shipping and four boneless chicken breasts.
Of course, you could secure bigger savings by browsing the many Omaha Steaks' coupons, deals, and promo codes available at goodshop.com.
Is There a Minimum Purchase Requirement?
Yes. Omaha Steaks requires its customers to spend $99 or more to qualify for both purchase and delivery.
Can I Customize a Menu?
You sure can. Omaha Steaks allows its customers to create customized packages to match their exact needs and budget. You can choose the steaks, entrees, desserts, and wine you love, and your order will arrive at your address free of charge.
Does Omaha Steaks Have a Satisfaction Guarantee?
Thanks to Omaha Steaks' 100% satisfaction guarantee, you can receive a refund or a replacement if you're unhappy with an order for any reason.
Can I Request a Catalog?
Yes. Submit your address details in the Request a Catalog page on Omaha Steaks' website.
Can I Visit an Omaha Steaks Store?
You can visit one of the 70+ Omaha Steaks stores located across the United States, which operate from 10:00 am to 6:00 pm Monday to Sunday.
How Can I Place an Order?
You can visit an Omaha Steaks store to choose from the varied selection of steaks, meats, seafood, wine, and desserts. Alternatively, you can place an order online, and you could save money using an Omaha Steaks promo code.
Can I Pick Up an Order at Curbside?
Phone-in your order and pick it up the same day at your local Omaha Steaks store.
Can I Follow Omaha Steaks on Social Media?
Stay updated on the latest news, deals, and products by following Omaha Steaks on Facebook, Twitter, Pinterest, Instagram, and YouTube.
How Can I Contact Omaha Steaks?
If you have a problem or question, you can call the friendly Omaha Steaks' team on 1-800-248-8786.
How to Shop at Omaha Steaks
Find the Perfect Cut at Omaha Steaks
Omaha Steaks has proudly provided its customers with delicious, high-quality steaks for more than 100 years. In addition to finding the perfect cut at one of the brand's 70 stores, customers can order delicious meat, entrees, desserts, and wines via the website.
Save money on high-quality meat, desserts, and wine by browsing the many Omaha Steaks' coupons, deals, and promo codes at goodshop.com. Also, earn 1.5% cashback, or donate the saving to a charitable cause.