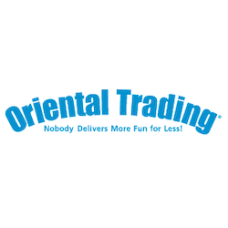 Oriental Trading Company Coupons, Discounts and Promo Codes
4 Verified Coupons for
October 05, 2022
$40 Off With Minimum Spend
expires: ongoing
Used 66 times
Last Used less than a minute ago
Coupon Code for Free Shipping Over $39
expires: ongoing
Used 65 times
Last Used 4 days ago
Coupon Code for Free Shipping on Orders Over $49
expires: ongoing
Used 155 times
Last Used 1 day ago
Free Shipping on Orders Over $49
expires: ongoing
Used 375 times
Last Used 4 days ago
Free Shipping on Orders Over $49
expires: ongoing
Used 1480 times
Last Used 9 days ago
Free Shipping Over $49+ You Order
expires: ongoing
Coupon Code for 50% Off Every $49 You Spend
expires: ongoing
More FAQs for Oriental Trading Company
Does Oriental Trading Company offer price matching?
Yes, and they do even better! If you find one of their items at a lower price somewhere else, they will not only match it but give you an additional 10% off. Combine that with coupons and promo codes from Goodshop.com for even more savings.
Are there any referral incentives?
If you refer a friend to Oriental Trading Company, they will give you $10 off your next purchase of $49 or more.
What is Oriental Trading Company's return policy?
Items are eligible for return within 90 days of purchase. The items must not have been opened or used.
Does Oriental Trading Company have a rewards program?
Yes! Oriental Trading Rewards is a free rewards program that offers a ton of perks for joining. Firstly, they will send you emails with exclusive deals, shipping offers, new product previews, DIY project ideas, interesting articles, and more. You will also accumulate points at the rate of 10 points per $1 spent. Once you hit 1000 points, they will throw in an additional $5 reward that you can redeem online or in-store.
You can save even more by taking advantage of exclusive coupons, daily deals, and offers from Goodshop.com.
I need to speak to customer service. How can I get a hold of them?
Oriental Trading Company prides itself on fast and friendly customer service. They are available 24/7 for any questions or queries via the live chat feature on their website, via email or toll-free at 1-800-875-8480.
Does Oriental Trading Company have free shipping?
Standard shipping rates start at $6.99 and go up based on your order and its size. If your order is over $200, you will be charged shipping at a rate of 10% of the order cost. Oriental Trading Company often offers deals on shipping, so keep an eye out for those. You can also score great free shipping deals with Goodshop.com
How long does shipping take from Oriental Trading Company?
The length of time it takes your order to arrive will depend on your location. Standard shipping within the US will take between 3-5 business days. You can opt to pay a higher shipping fee if you would like express shipping.
Does Oriental Trading Company offer personalized decorations and supplies?
Absolutely! There is a vast range of customizable items, including personalized candy, photo products, banners, invitations, signs, party favors, and more. You can have just about anything for your wedding, graduation, baby shower, and more customized exactly how you want it.
What can the Oriental Trading Company offer for my wedding?
If you can name it, they can do it. The Oriental Trading Company sells everything from aisle runners to table decorations, drinkware, signs, novelties, gifts, and more. You can personalize many of their items with your names, date, and colors that fit your theme.
Does Oriental Trading Company have candy for those with dietary restrictions?
Oriental Trading Company can cater to a variety of dietary restrictions. Their vast selection of candy offers options for those who are dairy-free, gluten-free, kosher, nut-free, and even sugar-free!
Does Oriental Trading Company offer gift cards?
Yes. You can give someone the gift of fun with an Oriental Trading Company gift card. They are available in any amount up to $500.
Can you get a catalog of Oriental Trading Company's products?
The Oriental Trading Company is happy to send a free catalog to your home. You just order them online, and they will ship them out to you for free. They have eight different catalog options based on what you're looking for. These include: - Wedding - Birthday - Business Edition - Fun & Faith - Spring - Graduation - Spring Education
How can I find the best deals at Oriental Trading Company?
The Oriental Trading Company runs deals quite often, and you can find them on the main page of their website. These change throughout the year, so it's a good idea to keep an eye on them, so you don't miss out on what you want. You can also find savings of up to 75% on selected products in their clearance sections. For exclusive deals that you can't find anywhere else, make sure to check out Goodshop.com. They have exclusive coupons, promo codes, and daily offers to save you even more on your party supplies.
How to Shop at Oriental Trading Company
Party Supply Savings at Oriental Trading Company
Oriental Trading Company sells a vast range of party supplies, toys, art, crafts, and novelties at great prices. Regardless of the occasion, throw a party that your friends and family will never forget with fun and unique products from Oriental Trading Company. For sky-high savings, combine online sales with Oriental Trading Company coupon codes and offers.
Visit the Oriental Trading Company page at Goodshop.com to access the best discounts, coupon codes, and daily offers from Oriental Trading Company. Find discounts on party supplies, crafting supplies, free shipping discounts, and more at Goodshop.com. They offer exclusive discounts that you won't find anywhere else, so you know you're getting the best price.
Someone
just earned Cash Back on Oriental Trading Company