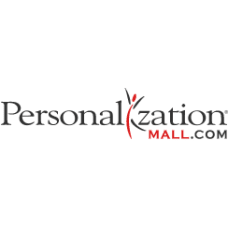 Personalization Mall Coupons, Deals and Promo Codes
10 Verified Coupons for June 12, 2021
Coupon Code for 15% Off Mothers Day
expires: ongoing
Used 12 times
Coupon Code for $5 Off Coupon
expires: ongoing
Used 35 times
Coupon Code for $10 Off Orders $45+
expires: ongoing
Used 1 time
50% Off Fathers Day Sale Order
expires: ongoing
$20 Off Orders $85+ With Promo Code
expires: ongoing
Coupon Code for $15 Off Orders $65+
expires: ongoing
Coupon Code for $5 Off Orders $25+
expires: ongoing
Used 4 times
25% Off Sitewide at Personalizationmall.com
expires: ongoing
Used 27 times
Coupon Code for 20% Off Sitewide
expires: ongoing
Used 13 times
Coupon Code for 20% Off Your Order
expires: ongoing
Up to 50% Off Father's Day Gifts
expires: 06/17/2021
30% Off Travel Gifts & Accessories
expires: 06/13/2021
Used 5 times
30% Off Gifts
expires: ongoing
Coupon Code for 20% Off Your Order of $50 or More
expires: ongoing
20% Off Sitewide With Coupon Code
expires: ongoing
20% Off Coupon Code Sitewide
expires: ongoing
Used 11 times
15% Off Coupon Code Sitewide
expires: ongoing
Used 3 times
Personalization Mall FAQ
Q:

When should I be looking out for sales and deals? 🛍️

The seasonal "Shop More, Save More" events are an amazing way to stock up and save big on personal gifts.

Q:

Are there any perks that come with joining the rewards program? 🎁

Join My Personal Rewards and receive 1 point for every $1 you spend. Also receive a free gift on your birthday!

Q:

Are there any email sign-up incentives?

Get $5 off any purchase over $25 when you join their mailing list.

Q:

Is there a fee for personalization?

Personalization is free with every purchase.

Q:

Are there any coupon codes or deals available for Personalization Mall? 🛍️

Goodshop has 17 active coupon codes and deals for Personalization Mall today.
Expired Coupons
Up to $20 Off Any Order

Father's Day Cutoff - Economy Shipping

Up to 50% Off Father's Day Sale

Flash Sale - 30% Off Home and Outdoor Sale

Shop Birthday Gifts Sale
Even more Personalization Mall Shopping Tips
Become a designer by personalizing clothing, homeware, and gifts, such as t-shirts, mugs, bags, and beer bottles, to name only a few.

Sign-up to Personalization Mall's mailing list to receive $5 off a $25 order. Plus, you'll receive exclusive offers and the latest news in your inbox.

Choose high-quality products from a variety of respected brands, such as Bed Bath & Beyond, Decorist, and Christmas Tree Shops.

You won't pay a penny extra for personalization, so you don't need to worry about any hidden fees at the checkout.

Forgotten to buy a loved one a gift? A personalized item can be shipped to your address within 1-2 days of your order.

Promote your business with customized corporate gifts that complement a brand, which can range from high-quality paperweights, candy dispensers, and travel mugs.
More FAQs for Personalization Mall
Why choose a personalized gift?
Personalized gifts will help your present to stand out from the crowd, which is why they are ideal for birthdays, weddings, engagements, or anniversaries. Plus, it's a thoughtful touch that can help you prove to a friend, relative or your other half how much you care.
What payment methods are accepted?
Personalization Mall provides various payment methods to suit a customer's needs. For example, you can place an order using most major credit cards, such as American Express, Visa, MasterCard, and Discover. PayPal is also accepted for those who are looking for a safer, convenient payment option.
How does the My Personal Rewards Program work?
Personalization Mall will provide its members with 1 reward point for each dollar they spend at their online store. By joining the program, you will have access to Double Point Deals throughout the year, and you will also receive an extra 50 points on your birthday. Membership will also allow you to contact dedicated email representatives. All points will appear once an order is shipped.
Is there a fee to join the My Personal Rewards Program?
You will be happy to learn it is free to enrol in Personalization Mall's My Personal Rewards Program. As soon as you apply, you will receive one point for every dollar spent with the brand.
Can I use a coupon if I'm entitled to reward points?
Members and non-members will be able to use a coupon on an order at Personalization Mall, which will lower their total. Reward points will be based on the total after a coupon has been applied. However, you will be unable to use more than one coupon per order.
Can international customers become a program member?
Both US and overseas customers can join the My Personal Rewards Program.
Can I order a product without personalization?
At present, it is not possible to order a product without personalization.
Can I design a product on every device?
If you have a device that does not use the most up-to-date version of Flash Player, it will be unable to support the software used by Personalization Mall. Plus, it must have enough memory to use the software at its full capacity. If you have a new device, however, it is likely it will support the latest version of Flash Player.
Is it possible to add symbols onto a product?
Unfortunately, Personalization Mall currently do not allow customers to add any symbols, accents or special characters onto their products. At present, they can only create products using letters and numbers from an English keyboard.
How long will it take to receive an order?
Personalization Mall aims to provide a fast turnaround on their customized products. In most cases, a product will ship within 1-2 business days after placing an order and selecting standard shipping. If you pick economy shipping, expect an order to be shipped within 3-4 business days.
Can my order be gift wrapped?
To present a loved one with the perfect gift, Personalization Mall provides two gift-wrapping services: Deluxe Gift Box ($5.95 and up) and a Do It Yourself Flat Gift Kit ($2.95 and up).
Can orders be sent internationally?
Personalization Mall can ship orders to many countries, including Canada, France, Germany, Spain, and the United Kingdom, to name only a few. It is, however, important to note that international shipping rates will apply and will be determined by the destination.
Can I pick up my order?
Local customers can pick up their order at the address located below. If you would like to do so, you must select the pick-up option at the checkout. In most cases, orders will be processed within one to two days and you'll be charged a $5 handling fee. You'll also receive an email once it is ready for you to pick it up.
How do I contact Personalization Mall?
If you have a question or concern about a Personalization Mall order, you can send a message to the customer service team at [email protected] They pledge to respond during business hours within 24-48 hours.
Alternatively, you can give the Personalization Mall team a call on the following telephone numbers:
Toll-Free: 1-866-386-8300 Phone: 630-910-6000 Fax: 630-910-6006
You also can write a letter to: PersonalizationMall.Com 51 Shore Dr. Burr Ridge, IL 60527
How to Shop at Personalization Mall
Prove to a loved one how much you care with a personalized gift from Personalization Mall. Take your pick from a wide variety of unique products that are bound to put a smile on a friend, relative, or other half's face. There are items to complement every occasion, from birthdays and weddings to graduations and housewarmings.
You also can save money on an order with Personalization Mall coupons, promo codes, and deals. So, you'll have more money to spend on the perfect gift.
Make Goodshop.com your first port of call when looking for the best Personalization Mall coupons and deals. Plus, you could earn cashback on an order or donate your saving to a charitable cause.
Someone
just earned Cashback on Personalization Mall