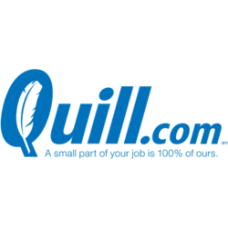 Quill Coupons, Deals and Promo Codes
25 Verified Coupons for June 12, 2021
$50 Off When You Spend $500+ and Free Shipping
expires: 06/13/2021
Used 6 times
$10 Off When You Spend $150+ and Free Shipping
expires: 06/13/2021
Used 2 times
$5 Off When You Spend $99 and Free Shipping
expires: 07/04/2021
Used 4 times
$35 Back in QuillCASH Rewards for Future Orders When You Spend $325+ and Free Shipping
expires: 06/13/2021
Used 1 time
Free Rachael Ray Bundle When You Spend $1000 and Free Shipping
expires: 07/04/2021
Used 1 time
Free 24 Pack of 2oz Mellow Gel Hand Sanitizer When You Spend $175 and Free Shipping
expires: 07/04/2021
Used 1 time
Free Kenneth Cole Reaction 4 in 1 Bag Set When You Spend $750 and Free Shipping
expires: 07/04/2021
Used 3 times
Free Vera Bradley 4-PC Market Tote Set When You Spend $250 and Free Shipping
expires: 06/13/2021
Used 1 time
Free Burts Bees Face Essentials Holiday Gift When You Spend $175 and Free Shipping
expires: 07/04/2021
Used 1 time
Free Billboard Bluetooth Speaker When You Spend $375 and Free Shipping
expires: 07/04/2021
Used 1 time
Free Cuisinart Electric Yogurt Maker When You Spend $1500 and Free Shipping
expires: 07/04/2021
Used 1 time
Free Patriotic Socks, Flashing Necklace, and Scarf Set When You Spend $125 and Free Shipping
expires: 06/27/2021
Used 1 time
Free Vivitar Wrist Blood Pressure Monitor When You Spend $325 and Free Shipping
expires: 07/04/2021
Used 1 time
Free Creative Ware 2-PC Mason Jar Mug Set When You Spend $125 and Free Shipping
expires: 07/04/2021
Used 1 time
Free Mrs Fields Cookie Box When You Spend $99 and Free Shipping
expires: 07/04/2021
Used 1 time
Free Vera Bradley Iconic 4-PC Cosmetic Set When You Spend $500 and Free Shipping
expires: 07/04/2021
Used 1 time
Free Vista Blanket - Star Wars Darth Vader When You Spend $325 and Free Shipping
expires: 07/04/2021
Used 8 times
Free Ethyl Alcohol Wipes, 24/Ct When You Spend $249 and Free Shipping
expires: 07/04/2021
Used 1 time
Free Prepworks Freezer Portion Trays When You Spend $325 and Free Shipping
expires: 07/04/2021
Used 7 times
Free Bath Wrap When You Spend $150 and Free Shipping
expires: 07/04/2021
Used 1 time
Free Bottle Humidifier With Fan and Light When You Spend $125 and Free Shipping
expires: 06/20/2021
Used 1 time
2 Free 8 Oz Gel Hand Sanitizers and Free Shipping
expires: 06/20/2021
Used 1 time
All Deals for $1 and Free Shipping
expires: 06/13/2021
Used 3 times
Plus Points Program Enrollment Was: $29.99 Now: $14.99 and Free Shipping
expires: 06/30/2021
Used 1 time
Quick Ship Select Items Are Guaranteed to Be Delivered Within 2 Business Days When You Order by 3pm
expires: ongoing
Used 11 times
Quill FAQ
Q:

Does Walmart offer free shipping? 🚚

Free shipping on orders over $45.

Q:

What's the return policy? ↩

You have 60 day return window for a full refund. But, returns must be completed within 30 days for software, computers, furniture and vending machines.

Q:

Where can I find official Quill deals and coupons? 🛍️

Quill generally has both site wide and product specific coupons and deals so be sure to check them out before making your purchase.

Q:

Are there any coupon codes or deals available for Quill? 🛍️

Goodshop has 25 active coupon codes and deals for Quill today.
Expired Coupons
Free 2 PC Savannah Travel Set When You Spend $300+ and Free Shipping

Free Sylvania 2-in-1 Headphone Combo When You Spend $175 and Free Shipping

Free CreativeWare Chip and Dip When You Spend $125 and Free Shipping

Free Progressive Rice and Pasta Cooker Set When You Spend $175+ and Free Shipping

Free Vera Bradley Lighten Up|Iconic Zip ID Case When You Spend $150+ and Free Shipping