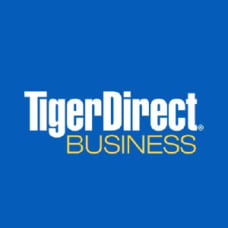 TigerDirect Coupons, Deals and Promo Codes
47 Verified Coupons for June 15, 2021
Coupon Code for $20 Off Ibuypower Element Mini 167a Gaming Desktop Pc
expires: ongoing
Used 7 times
Coupon Code for $50 Off Logitech Zone Wired on-Ear Headset
expires: ongoing
Used 169 times
Coupon Code for $650 Off Cyberpowerpc Gamer Xtreme 9th Gen I5
expires: ongoing

Get an Additional 60% Off! on Dell Optiplex 7010 Destop PC - Intel Core I5-3470 40859809
expires: 09/30/2021
Used 3 times

HP EliteDesk 800 G2 SFF PC - Intel Core I7-6700 3.4GHz 42588445
expires: 06/30/2021
Used 3 times
Xerox B205 Multifunction Laser Printer - Monochrome 41904773
expires: 06/30/2021
Used 5 times
Microsoft Surface 3 2-in-1, Intel Atom X7-Z8700 1.6GHz 42128698
expires: 09/30/2021
Used 3 times
IKKEGOL Micro USB 78-Key Compact Keyboard 42593975
expires: 06/30/2021
Used 1 time

Lenovo ThinkCentre M81 SFF PC - Intel Core I5-2400 3.1GHz 42588444
expires: 09/30/2021
Used 1 time

HP EliteDesk 800 G2 SFF Desktop - Intel Core I7-6700 3.4GHz 42621785
expires: 09/30/2021
Used 1 time
Acer Veriton X SFF Desktop PC - 9th Gen Intel Core I5-9400 2.9GHz 42245771
expires: 06/30/2021
Used 1 time

HP Compaq Pro 6305 SFF Desktop PC - AMD A8-5500B 3.2GHz 42159606
expires: 06/30/2021
Used 1 time
CyberPowerPC Gamer Xtreme Gaming Desktop PC - Intel Core I7-9700F 3GHz 41799723
expires: 06/30/2021
Used 1 time

HP ZBook 14u G6 Mobile Workstation - 8th Gen Intel Core I7-8565U 1.8GHz 41814956
expires: 06/30/2021
Used 3 times

CYBERPOWERPC Gamer Master Desktop PC - AMD Ryzen 3 3100 3.6GHz 42618806
expires: 06/30/2021
Used 3 times
Kensington Keyboard for Life Desktop-Set - Wired, Optical Sensor 9461447
expires: 06/30/2021
Used 7 times

HP USB Type-C Travel Docking Station - For USB Type-C Devices 40941553
expires: 06/30/2021
Used 5 times

Lenovo ThinkPad E14 20RA Notebook PC - 10th Gen Intel Core I5-10210U 1.6GHz 42050964
expires: 06/30/2021
Used 1 time

HP EliteDesk 800 G1 Mini Desktop PC - Intel Core I5-4570T Dual-Core 2.90GHz 42593616
expires: 06/30/2021
Used 1 time

Dell Optiplex 3240 All-in-One PC - Intel Core I5-6500T 42577536
expires: 06/30/2021
Used 1 time

HP Z230 Tower Desktop PC - Intel Xeon E3-1225 V3 3.20GHz 42159611
expires: 06/30/2021
Used 3 times

HPI HP 14" ProBook 6460B Laptop - Intel Core I5-2410M 2.3GHz 42136818
expires: 09/30/2021

HP 800 G2 Tower Desktop PC - Intel Core I5-6500 Quad-Core 3.2GHz 42302464
expires: 06/30/2021
Used 2 times

Dell Latitude 7290 Laptop - Intel Core I7-8650U Quad-Core 1.9GHz 42588453
expires: 09/30/2021
Used 1 time
HPI EliteDesk 800 G2 SFF Desktop PC - Intel Core I5-6500 3.2GHz 42618961
expires: 06/30/2021
Used 1 time
Lexmark B341 Return Program Toner Cartridge - Black 42126466
expires: 06/30/2021
Used 1 time
Acer ChromeBook 11 C740 C4PE Laptop PC - Intel Celeron 3205U 1.5GHz 42138418
expires: 09/30/2021

DELL OptiPlex 7040 Mini-Tower Desktop - Intel Core I5-6500 3.20GHz 42618883
expires: 06/30/2021
Used 4 times

Lenovo ThinkCentre M93 SFF Desktop PC - Intel Core I7-4770 3.4GHz 42009247
expires: 09/30/2021

Lenovo ThinkPad P14s Gen 1 20Y1 Mobile Workstation 42139094
expires: 06/30/2021
Used 1 time

DELL Latitude E5450 Notebook PC - Intel Core I5-5300U 2.3GHz 42139312
expires: 06/30/2021
Used 2 times

Lenovo ThinkBook 14 G2 ARE 20VF Laptop - Ryzen 7 4700U 2GHz 42139073
expires: 06/30/2021
Used 1 time

Lenovo ThinkPad E15 20RD Notebook PC - 10th Gen Intel Core I3-10110U 2.1GHz 42025398
expires: 06/30/2021
Used 2 times

Lenovo ThinkPad T450S Laptop - Intel Core I7-5600U 2.6GHz 42571965
expires: 06/30/2021
Used 3 times
Apple 10.2" iPad (7th Generation) Wi-Fi Tablet - 64-Bit A10 Fusion Chip 42619357
expires: 06/30/2021
Used 5 times

HP ProDesk 600 G2 Mini Tower PC - Intel Core I7-6700 3.4GHz 42588447
expires: 06/30/2021
Used 1 time
JBL Free X True Wireless In-Ear Headphones - In-Ear, Bluetooth 42129574
expires: 06/30/2021
Used 3 times
LG LED-Backlit LCD Monitor - 27" FHD 1920x1080 41509605
expires: 06/30/2021
Used 1 time
Logitech Wireless Wave Combo MK550 - English Layout Keyboard 8179746
expires: 06/30/2021
Used 1 time
CyberPowerPC Gamer Xtreme Gaming Desktop PC 42133280
expires: 06/30/2021
Used 4 times
APC Back-UPS 650 - UPS - AC 120 V 8851586
expires: 09/30/2021
Used 1 time

Dell Optiplex 7040 SFF Desktop PC - Intel Core I7-6700 3.4GHz 42609603
expires: 06/30/2021
Used 3 times

Lenovo ThinkCentre M81 SFF PC - Intel Core I5-2400 3.1GHz 42591068
expires: 09/30/2021
Used 1 time
Certified Refurbished Computer Deals at TigerDirect
expires: 01/31/2022
Used 5 times
HPI ProDesk 600 G2 SFF Desktop PC - Intel Core I7-6700 3.4GHz 42611185
expires: 06/30/2021
Used 1 time

Lenovo P330 Mini Tower Desktop PC - Intel Core I5-8500 3.0GHz 42619564
expires: 06/30/2021
Used 1 time

$50 Off Msi Gf75 Thin 10sdk-456 10th Gen I7 17.3 Inch
expires: ongoing
$80 Off Acer Cbidpx Lcd Monitor With Code
expires: ongoing
Used 1 time
$20 Off Ibuypower 163a Gaming Desktop Pc
expires: ongoing
Used 2 times
$30 Coupon Off!
expires: ongoing
Used 14 times
TigerDirect FAQ
Q:

Where can I find official TigerDirect deals? 🛍️

Tiger Direct promotes a daily deal slasher each day. Take a look for some big savings.

Q:

Where can I find warranty information?

Tiger Direct will help you with questions about manufacturer warranties by contacting them at [email protected]

Q:

What's the return policy? ↩

You have 30 days to return qualified products. You must receive a Return Authorization Number, which you can get by contacting the site, in order to make the return.

Q:

What's the best way to get a deal on a specific product?

Tiger Direct puts out a lot of coupons for specific products. If you have something in mind, check out our coupon codes to see if you can get a deal on a similar product.

Q:

Are there any coupon codes or deals available for TigerDirect? 🛍️

Goodshop has 50 active coupon codes and deals for TigerDirect today.
Someone
just earned Cashback on TigerDirect