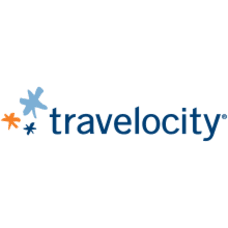 Travelocity Coupons, Deals and Promo Codes
28 Verified Coupons for May 07, 2021
Coupon Code for 15% Off Your First App Hotel Booking
expires: ongoing
Used 42 times
15% Off Your Stay
expires: ongoing
Used 35 times
Coupon Code for 10% Off Select Hotels
expires: ongoing
Used 6 times
Smart Savings: Over 40% Off Sale
expires: ongoing
Used 14 times
Save 50% on Your Second Guest When Booking a Celebrity Cruise
expires: ongoing
Used 13 times
Roam Near Home: Get An Extra 10% Off Select Hotels
expires: ongoing
Used 10 times
Up to 60% Off Vacation Rentals
expires: ongoing
Used 9 times
Up to 85% Off Norwegian Sailaway Rates
expires: ongoing
Used 6 times
Save Up to 28% on Select Sailings + Receive a 50% Non-Refundable Deposit
expires: ongoing
Used 2 times
Explore Hotels With Free Cancellation Options
expires: ongoing
Used 3 times
Promotion Codes and Travel Coupons
expires: ongoing
Used 12 times
Save on Las Vegas Vacation Packages and Deals
expires: ongoing
Used 2 times
Incredible Deals on the Best Cruises - Last-Minute Sailings From $149
expires: ongoing
Used 4 times
Great Flight Deals and Discounts
expires: ongoing
Used 5 times
Shop Discount Travel Offers
expires: ongoing
Used 3 times
Save on Select Car Rentals From $31
expires: ongoing
Used 5 times
Packages Now: $400 and Under
expires: ongoing
Used 2 times
Save on Luxury Hotel Offers
expires: ongoing
Used 5 times
Daily Deals: Featured Hotels Up to 70% Off
expires: ongoing
Used 286 times
Extra 10% Off When You Subscribe for Member Discounts
expires: ongoing
Used 261 times
Featured Hotels Up to 40% Off
expires: ongoing
Used 145 times
50% Off 2nd Guest + Get Up to $1000 to Spend Onboard
expires: ongoing
Used 22 times
Coupon Code for 15% Off in the App
expires: ongoing
Coupon Code for 10% Off Your Booking
expires: ongoing
Used 1 time
Coupon Code for $75 Off Flight + Hotel Bookings
expires: ongoing
Coupon Code for 15% Off Select Hotels
expires: ongoing
Coupon Code for $75 Off Flight + Hotel Bookings
expires: ongoing
Used 1 time
Coupon Code for 17% Off Select Hotels in App
expires: ongoing
Used 1 time
Coupon Code for 8% Off Select Hotel Stays
expires: ongoing
Coupon Code for 13% Off Bookings on the App
expires: ongoing
Used 1 time

30% on Avis Car Rentals
expires: ongoing
Coupon Code for 15% Off Select Hotels
expires: ongoing
Used 11 times
$75 on Flight + Hotel Bookings When You Stay 3 Nights or More
expires: ongoing
Used 16 times
Coupon Code for $75 Off Flight + Hotel Bookings With 3+ Night Stay
expires: ongoing
Used 20 times

Coupon Code for 35% Off Avis Car Rental
expires: ongoing
Used 4 times
Coupon Code for $50 Dollars Off
expires: ongoing
Used 22 times

25% Off Budget Car Rentals
expires: ongoing
Used 9 times
Travelocity FAQ
Q:

Does Travelocity offer price adjustments after purchase? ✈

If you notice a price drop within 24 hours of booking your flight, car, or cruise, Travelocity will refund you the difference and give you $50 off your next trip. For hotels, you have up till the day before your stay to notify them of a price drop.

Q:

What's the cancellation policy?

There are no cancellation fees as long as you cancel 3 days prior. However, you will need to check with the hotel, airline, or car rental service for any fees.

Q:

Where can I find official Travelocity deals? 🛍️

Keep an eye out on their deals page for the best deals available.

Q:

Are there any coupon codes or deals available for Travelocity? 🛍️

Goodshop has 37 active coupon codes and deals for Travelocity today.
Expired Coupons
Save An Extra $150 on Flight + Hotel Bookings When You Spend $2000

Cyber Week Deals - 10% Off Select Hotels

Save 40% or More on Select Hotels Plus Book With Flexible Hotel Cancellation

Book With Flexible Hotel Cancellation and Save 40% or More on Select Hotels

Check for Season's Best Ski Offers
Travelocity at a Glance
How can Travelocity help you "wander wisely"? Usually the internet is not where we turn for the wisdom of the ages, but as far as booking travel online goes, Travelocity is about as sage as you can get. Travelocity first went online in 1996 in conjunction with American Airlines' electronic reservation system, Sabre, and gained popularity in the early internet years through its partnership with AOL (now that's old school!).
Travelocity was in the first wave of what have become commonly known as OTAs, or online travel agencies. These OTAs allow travelers to book flights and hotels online on their own, instead of booking through a travel agent. OTAs have since flourished, as evidenced by the number of Travelocity's "siblings": Expedia Inc, Travelocity's parent company, also owns popular travel websites Orbitz, Hotels.com, Hotwire, Trivago, and CheapTickets, to name a few. Top competitors Priceline owns Booking.com, Kayak, and Momondo.
To book with Travelocity, travelers can simply enter their vacation dates, select what type of travel booking they'd like to make, and search within their destination. Travelocity will then provide a list of available options with prices and deals easily visible on the page. Travelocity offers a Price Match Guarantee to ensure that their customers get a great price, with even bigger discounts for members. Travelocity offers flights from over 400 airlines and more than 1 million properties across the globe from which to choose.
While Travelocity began assisting customers with airline reservations, the business has since expanded to just about every imaginable type of vacation booking. Hotels, car rental, cruises, activities, and of course flights are all available in one convenient location, often boasting better deals than travelers will find elsewhere. Vacation packages is where Travelocity really shines in this regard. By using an OTA, travelers can book their hotel stays in a bundle with flights and car rentals, often resulting in big savings (particularly their Deal of the Day!).
Beyond bookings, Travelocity's website provides vacation inspiration and lists of things to do in various destinations, along with the promise of excellent customer service before, during, and after a trip. Now, Travelocity is also helping travelers give back, too. With the Travel For Good initiative, Travelocity is providing travelers with information and support for volunteering and performing community service during their vacations. Can you think of a wiser way to wander?
Someone
just earned Cashback on Travelocity