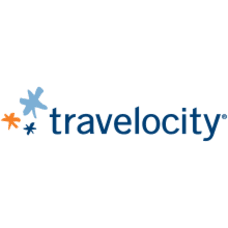 Travelocity Coupons, Deals and Promo Codes
37 Verified Coupons for September 16, 2021
Updated September 9, 2021
Coupon Code for 10% Off Select Hotels
expires: ongoing
Used 22 times
15% Off Your Stay
expires: ongoing
Used 61 times
Smart Savings: Over 40% Off Sale
expires: ongoing
Used 21 times
Save 50% on Your Second Guest When Booking a Celebrity Cruise
expires: ongoing
Used 15 times
Up to 85% Off Norwegian Sailaway Rates
expires: ongoing
Used 9 times
Save Up to 28% on Select Sailings + Receive a 50% Non-Refundable Deposit
expires: ongoing
Used 4 times
Adventure Trips With Free Cancellation
expires: ongoing
Used 2 times
Promotion Codes and Travel Coupons
expires: ongoing
Used 24 times
Kids Stay Free
expires: ongoing
Used 1 time
Deals
expires: ongoing
Used 1 time
24/7 Support Guaranteed
expires: ongoing
Used 3 times
Travel Deals
expires: ongoing
Used 4 times
Save on Las Vegas Vacation Packages and Deals
expires: ongoing
Used 3 times
Great Flight Deals and Discounts
expires: ongoing
Used 7 times
Shop Discount Travel Offers
expires: ongoing
Used 4 times
Save on Select Car Rentals From $31
expires: ongoing
Used 6 times
Packages Now: $400 and Under
expires: ongoing
Used 4 times
Save on Luxury Hotel Offers
expires: ongoing
Used 7 times
Save on Select Hotels
expires: ongoing
Used 1 time
Solo Travel Hotel Offers
expires: ongoing
Used 1 time
Save on Weekend Road Trip Offers
expires: ongoing
Used 1 time
Save With Family Hotel Deals
expires: ongoing
Used 3 times
Last Minute Travel Deals
expires: ongoing
Used 1 time
Flight + Hotel Deals Under $400
expires: ongoing
Used 3 times
Save on Air Fares
expires: ongoing
Used 1 time
Extra Savings When You Book Hotel and Flight Together
expires: ongoing
Used 1 time
Daily Deals: Featured Hotels Up to 70% Off
expires: ongoing
Used 311 times
Featured Hotels Up to 40% Off
expires: ongoing
Used 146 times
Extra 10% Off When You Subscribe for Member Discounts
expires: ongoing
Used 266 times
50% Off 2nd Guest + Get Up to $1000 to Spend Onboard
expires: ongoing
Used 25 times
$75 on Flight + Hotel Bookings When You Stay 3 Nights or More
expires: ongoing
15% Off Select Hotels in the App
expires: ongoing
Used 1 time
10% Off Select Hotels
expires: ongoing
Coupon Code for $30 Off Select Activities
expires: ongoing
10% Off Your Booking With Code at Travelocity.com
expires: ongoing
$75 Off With Coupon Code
expires: ongoing
Used 1 time
10% Off Select Hotels
expires: ongoing
Used 1 time
15% Off Participating Hotels
expires: ongoing
Used 1 time

30% Off Avis Car Rentals
expires: ongoing
Used 3 times
Coupon Code for $10 Off Select Items With $100+
expires: ongoing
Used 1 time
10% Off Select Hotels
expires: ongoing
Used 5 times
Coupon Code for 8% Off Select Hotel Stays
expires: ongoing
Used 3 times
Coupon Code for 13% Off Bookings on the App
expires: ongoing
Used 4 times

30% on Avis Car Rentals
expires: ongoing
Used 5 times
Coupon Code for 15% Off Select Hotels
expires: ongoing
Used 14 times
Coupon Code for $75 Off Flight + Hotel Bookings With 3+ Night Stay
expires: ongoing
Used 23 times
Coupon Code for 10% Off Select Hotels
expires: ongoing
Used 10 times

Coupon Code for 35% Off Avis Car Rental
expires: ongoing
Used 12 times

25% Off Budget Car Rentals
expires: ongoing
Used 12 times
Coupon Code for 15% Off Your First App Hotel Booking
expires: ongoing
Used 54 times
Travelocity Shopping Tips
Want help planning your ideal vacation? Download the Wisest Traveler app for company information, the latest travel deals, and tips and tricks to help you #WanderWisely.

Check out the Travelocity "Price Match Guarantee" for peace of mind that you are getting the best available deals.

Visit the website for access to over 400 airlines and more than one million properties worldwide.

Need to cancel your trip? Notify Travelocity at least 3 days prior to your stay and benefit from their no cancellation fee policy.

Want inspiration for things to do at your chosen destination? Head to the Travelocity website and start planning fun-filled activities for your next vacation.

Have a question? Enjoy 24/7 assistance on Travelocity's social media pages.
More FAQs for Travelocity
How do I find the best deals at Travelocity?
Simply head to the daily deals section of the Travelocity website, and you will find discounts on vacation packages, flights, hotels, and car rentals. Look out for early booking savings, seasonal offers, and their featured package deals.
Travelocity coupons, deals, and promotional codes can be found at Goodshop.com with regular offers, including 17% off select hotels when booking on the app, 50% off 2nd guests, and up to $1,000 to spend onboard.
What is the Travelocity Price Match Guarantee?
When you book a vacation with Travelocity, you can rest safe in the knowledge that you will not be able to find the same vacation at a cheaper rate anywhere else. Their Price Match Guarantee covers flights, hotels, vacation packages, rental cars, and activities and promises to refund the difference if you can find a cheaper, identical trip within 24 hours of booking.
Cruise bookings are covered under the Travelocity Price Match Guarantee.
You can find the best deals for all Travelocity trips on the Travelocity page at Goodshop.com, with ongoing offers across flights, accommodation, and vacation packages.
How do I navigate the Travelocity site to plan my next vacation?
The Travelocity website is designed to be easy to navigate and to allow you to order your search results according to your own personal preferences.
The Sort settings at the top of the page allow you to search for certain criteria such as by price, verified review score, and vacation type.
You can choose to search for flights, car rental, lodging, cruise, activities, or vacation packages. If you do not choose to sort your options yourself, Travelocity will provide the most cost-effective and appropriate results based on relevant factors such as ratings, popularity, and overall experience.
What type of vacation packages does Travelocity offer?
Travelocity offers a wide range of vacation options, including beach vacations, city trips, pet-friendly-hotels, family options, luxury accommodation, budget-friendly destinations, and romantic getaways.
You can search for your preferred vacation destination on the Travelocity vacation packages page and can also find great vacation package deals on the Travelocity page at Goodshop.com.
Vacation destinations on offer include Hawaii, the Bahamas, Jamaica, Bali, Cancun, Las Vegas, Disneyland, New York, and many more. Should I download the Travelocity app?
Yes, you should. The Travelocity app allows you to access and change your itinerary on-the-go. Plus, it enables you to cancel selected hotel bookings with no cancellation fee. You will also benefit from real-time updates on your flights and exclusive offers.
How can I contact Travelocity
Travelocity offers 24/7 support and assistance via their social media pages, allowing you to experience a stress-free vacation, before, during, and after your trip. Alternatively, head to the Customer Support section of the website for answers to the most frequently asked questions.
You can also call the Travelocity Customer Service department directly for any urgent inquiries or if you would prefer to speak personally with a trusted and knowledgeable advisor.
Can I cancel my trip with Travelocity?
With the Travelocity Vacation Waiver, you can cancel or change your trip for any reason, and Travelocity will pay your change fees.
With the Travelocity Vacation Waiver, you can: 1. Change or cancel your trip 2. Cancel your flight and get a full refund of any cancelations fees and a credit for the amount of the canceled ticket 3. Change your flight and get a full refund of any change fees and credit for future travel 4. Enjoy cover prior to the scheduled start of your trip 5. What happens if I have a problem with my booking with Travelocity?
Travelocity are dedicated to providing their customers with a stress-free vacation and provide 24/7 customer support. Whether you have a problem with your hotel, your flights, or you need to amend or cancel your booking, Travelocity will work with you to find a solution.
If your flight has been cancelled, Travelocity will find you a new flight and locate you to a hotel if you require an overnight stay.

If your chosen hotel is overbooked, Travelocity will find you a comparable room at no extra charge.

If you need to amend your booking for any reason, Travelocity will work with their travel suppliers to have your booking adjusted quickly and with minimal fuss.
How to Shop at Travelocity
Vacation Package Deals from Travelocity
Discover the beauty of a stress-free vacation with Travelocity. With 24/7 support guaranteed, you can enjoy city breaks, beach vacations, and all-inclusive cruises at the touch of a button.
Combine Travelocity daily deals and seasonal offers with Travelocity coupons and promotional codes when possible for maximum savings.
Goodshop.com: Visit the Travelocity page at Goodshop.com to find the best daily deals, offers, and promotional codes from Travelocity. Sort codes by your own personal preference to find the right vacation deal for you. You can also earn 2% cashback when you shop at Travelocity, or you can donate it to your preferred cause.
Someone
just earned Cashback on Travelocity