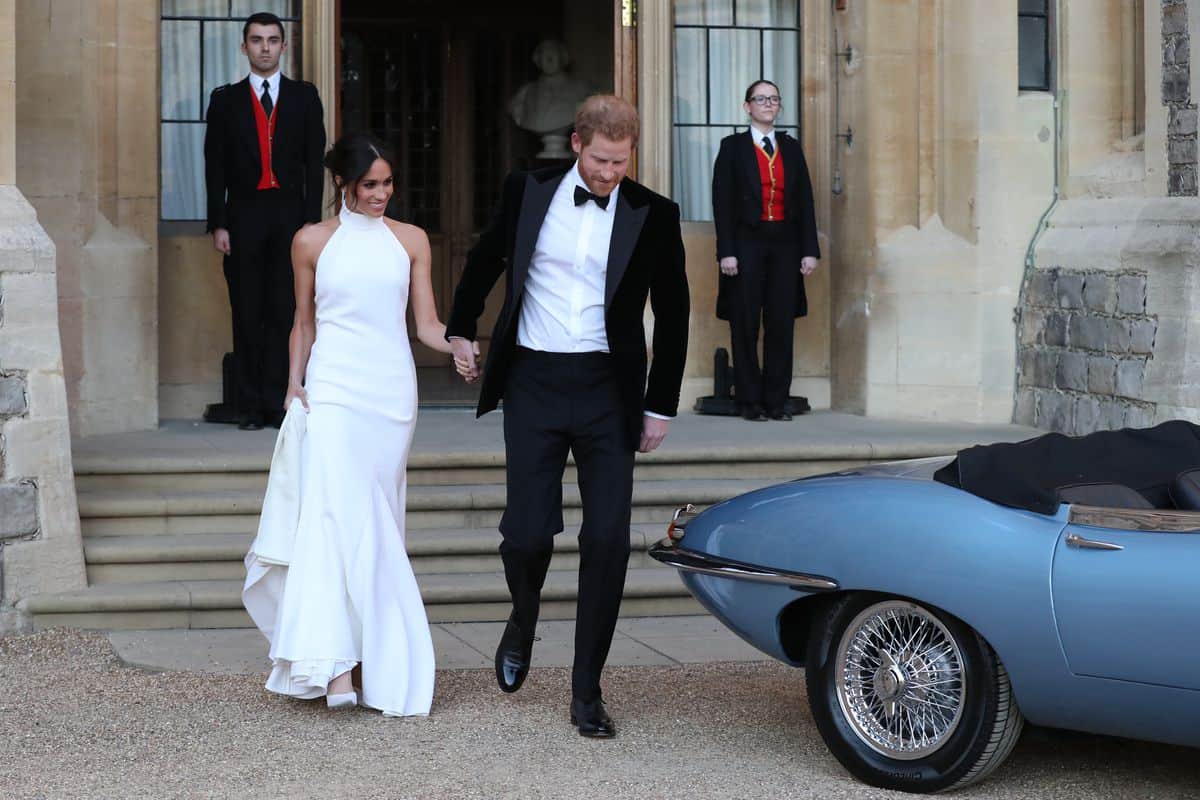 (Duchess Meghan Markle heading to her and Prince Harry's evening reception in her second wedding gown by Stella McCartney. Source: Getty Images)
There's a common misconception that sustainability goes hand-in-hand with sacrifice, especially when it comes to sustainable fashion. In fact, the two words probably conjure up images of impractical, hippie fabrics, such as hemp or granola. However, times are changing. Even the recent royal wedding proved sustainable fashion can be quite the opposite of lack—even, dare we say, an abundance of high style.
Although the highly-anticipated nuptials made history for a number of reasons, we must admit our attention was on the fashion statements. While most in attendance upheld England's classic, prim dress code, there was one recurring trend we saw on guests, members of the royal family and even the duchess herself: eco-conscious ensembles. Kate Middleton, for example, re-wore her beloved, ivory Alexander McQueen skirt suit, which she has been photographed in on several other public occasions. Celebrity attendees, including Amal Clooney and Oprah Winfrey, sported couture by eco-conscious designer Stella McCartney (Winfrey even endured a sustainable fashion emergency, for which the British designer's team worked overnight to make her dress in a more-appropriate shade. The OWN mogul paired her blush look with a vintage hat that's been in her closet since 2005). Even the bride, Meghan Markle, selected a youthful silhouette by McCartney for her second, evening-reception gown, which she accented with Princess Diana's vintage, aquamarine-diamond ring—a gift from her now-husband. In the days leading up to the big event, Prince Charles advocated for the slow, sustainable fashion movement, according to The Guardian.
The conversation of environmentally-sensitive apparel is especially timely, as we consider the retail climate we are in—not to mention climate change we are facing. And it's not just royals paving the way. Earlier this year, Vogue Australia appointed its first-ever sustainability editor-at-large, Clare Press, coinciding with the publication's sustainability issue, starring actress and eco-advocate Emma Watson as guest editor.
Other influential stars also support the cause. Pharrell Williams, for instance, believes that "fashion can be a key player in protecting the planet." The Grammy-award winning artist even joined forces with Bionic Yarn, a company that removes plastic pollution from oceans and spins it into yarn for brands including Adidas, O'Neill, G-Star (Raw for the Oceans) and H&M's Conscious Exclusive. Meanwhile, Olivia Wilde co-founded Conscious Commerce, a creative agency that offers sustainable solutions for organizations, such as Alternative Apparel, Anthropologie, the CFDA, and, similarly, the H&M Conscious Exclusive. For their parts, brands are embracing the 3 R's we learned in school to change the way consumers think about shopping.
(Source: Amour Vert)
R1: Reduce.
Many basics brands have adopted a less-is-more philosophy. Everlane, for example, prides itself on "Radical Transparency," while Cuyana boasts "Fewer, Better Things." The latter has even collaborated with best-selling author and tidying expert, Marie Kondo on accessories to inspire a simplistic space and style. The California-based company encourages a Lean Closet movement, in which shoppers have the added incentive of donating unwanted clothing to women in need via non-profit H.E.A.R.T. (Helping Ease Abuse Related Trauma) and receive a $10 credit towards the brand's minimalist wardrobe upgrades.
Amour Vert, French for "green love," is another NorCal-born purveyor of well-made basics. However, planetary contribution is through mitigation: for every tee purchase, the company will plant a tree via its partnership with American Forests. "As a corporate partner, Amour Vert is a perfect fit for American Forests," Vice President of Communications Lea Sloan tells Goodshop. "We are so proud to partner with a company whose fabrics, philosophy and clothing are exemplary models of sustainable practices. By having AV customers participate with a tree planted for every tee, the company is effectively promoting consciousness of how essential forests are to the well-being of our planet."
R2: Reuse.
Still, many consumers simply can't get past the thought of spending $60+ on a T-shirt, no matter how high the quality or ethical the production standards. Enter For Days, a new subscription service that delivers affordable, zero-waste tees you can swap out every month. As we've mentioned before, rental just may be the new retail. Other subscription services, such as Rent the Runway and Le Tote, allow customers to try on the latest trends while maintaining a minimal lifestyle by essentially sharing their wardrobes with other users. Other ways to reuse are shopping vintage or second hand, swapping clothes with friends and proudly rewearing your purchases a la Kate Middleton.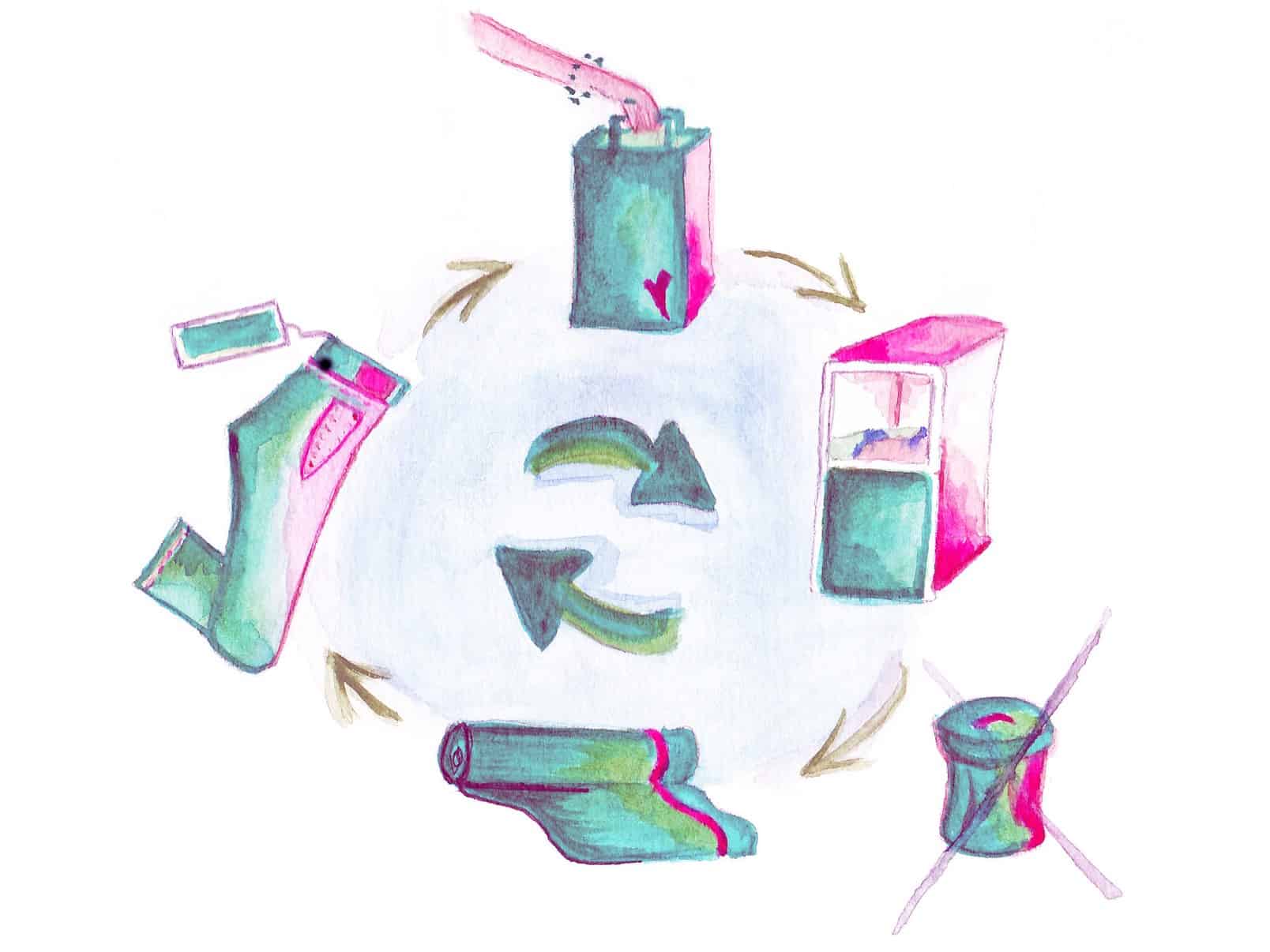 (Source: H&M)
R3: Recycle.
Despite donation efforts, the majority of our unwanted clothing ends up in landfills. Fortunately, more and more retailers are doing their part to intercept such waste through recycling initiatives. Levi's and H&M will collect your unwanted attire in exchange for discounts to shop. Old clothing is then sent to I:CO, an organization that sorts the garments to determine their conditions, whether they can be resold, repurposed or recycled—either within the fashion industry (closed loop) or as a product for other industries (open loop). For her part, Stella McCartney sources recycled fabrics, such as nylon and polyester, to promote a circular fashion economy. Additionally, the duchess' wedding-dress designer has always been an advocate for the environment and animals.
It's been reported that, with her new title, Markle had to give up many personal style freedoms. In similar sustainable fashion, by letting go of old shopping habits we can embrace a more abundant wardrobe (and shopping in general) approach. So what can consumers do to be more mindful of their shopping habits and, as a result, create more abundance in their lives? Stay informed. Support purpose-driven brands. Shopping with more intention creates space in our lives for, as Kondo would say, the things we love. Sloan adds, "What can people do? Appreciate trees. Plant trees. Give people trees as gifts. Defend the trees in your neighborhood from being cut, broken or damaged. They are shared shade and precious to our health and well-being." After all, it's the little things that are really the big things. Baby steps can lead to great strides.