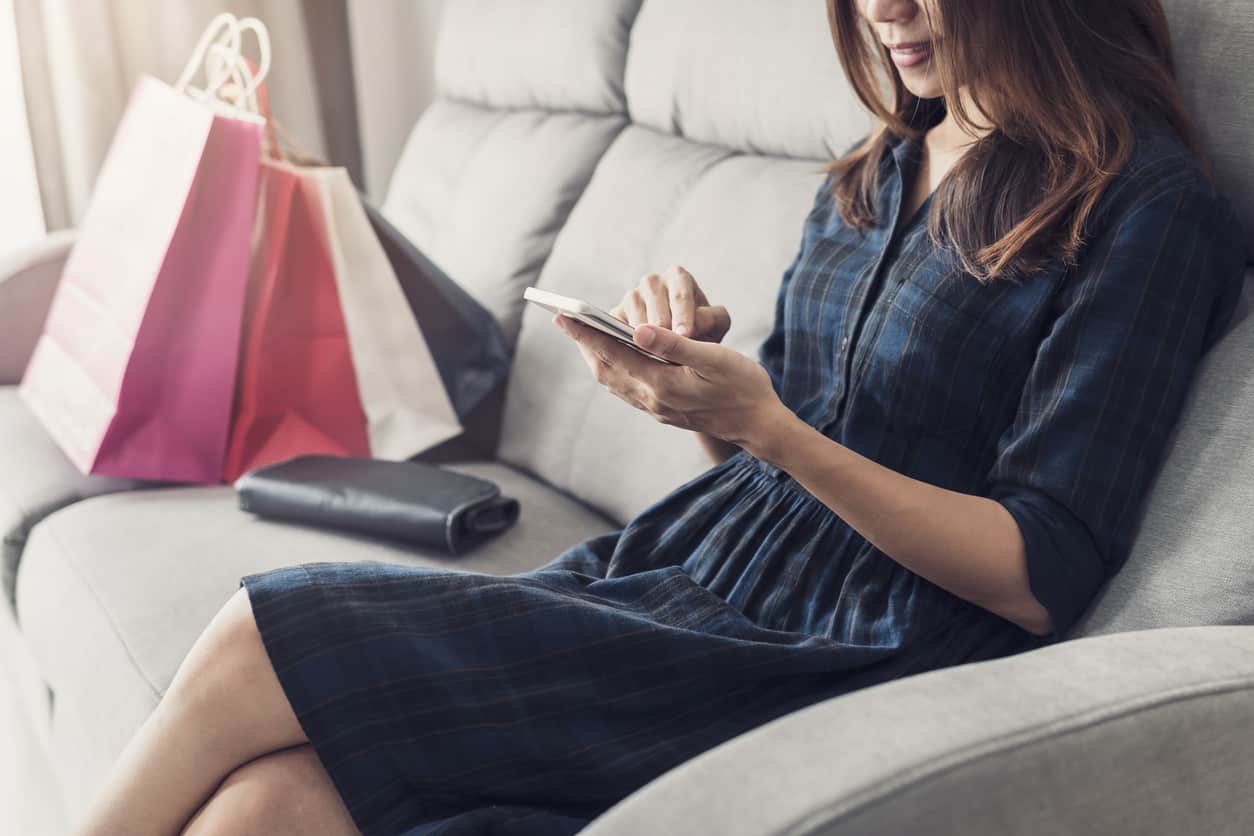 When's the last time you actually blocked off an afternoon to go shopping? I know for me, it's been years since I've decided I'm going to spend the afternoon in Soho with the sole intent of buying clothing at Topshop, Zara, or even Bloomingdales. And if you live in the suburbs, when's the last time you had the urge to hit up the mall (if there's even one left in your town)?
The hard truth is that brick-and-mortar fashion retail is losing steam pretty fast. Aside from beauty and food retail stores, brick-and-mortar stores are seeing emptier and quieter days as more and more customers choose the comfort of online shopping over taking the time to try on five clothing items in a fitting room. With the promise of free return shipping and easy checkout options, customers find it ever so easy to add items to their virtual cart, try them on at home, and then slap on the return label on the box of things that go back to the store.
While online shopping isn't anything novel, what is new is the prominence of social media shopping, particularly buying clothing directly off Instagram. Within the last decade, major retailers like Madewell and Nike have prioritized the importance of strengthening their websites and e-commerce offerings, but what they didn't see coming was the advent of the Instagram shop. Yes, small retailers are starting to gain prominence over major fashion brands because the former has realized just how important it is to create a personal and more real relationship with the customer. And the best way to create that relationship with customers? Keep their eyeballs glued to your Instagram feed.
These days, almost every clothing item that catches my eye or that I buy is because I saw it on Instagram. I follow a handful of small retailers that sell vintage clothing exclusively on Instagram or on e-commerce hosting sites like Etsy or Depop and the bigger clothing companies I buy from, like Everlane or Reformation, all had their beginnings from Instagram buzz. One of the biggest e-commerce platforms for Instagram and online brands is Tictail. Cofounder of Tictail, Carl Rivera, recently told Forbes that the majority of the sellers on Tictail are under 35-years-old and that 65% of the sellers business comes from Instagram. And Instagram itself has reported that since it implemented its feature to create a business account, 25 million users have turned their private accounts to business accounts, and that 60% of its users discover new brands through Instagram. Also, one in three stories viewed per a day are from a business account.
So it's no doubt that retail businesses are Instagram have the potential to thrive, but what does it take to become a big and successful Instagram-famous retail brand and why are customers increasingly more drawn to these social media fueled brands? Also, why are smaller retail brands finding more lasting connections and success with Instagram users over big, storied brands who joined the platform, like Burberry and ASOS?
One reason is that the smaller successful retail brands on Instagram have a way of making their accounts seem super personal, as if they are your good friend showing you a new shirt or dress that fits your vibe perfectly. One example is LPA, the immensely popular Los Angeles brand that all the cool girls are wearing. The founder, Pia Arrobio, decided to launch LPA after leaving her job at Reformation and realizing that she had a large personal Instagram following. If she shared posts of her wearing her clothes, would her followers want the clothes too? It was almost too easy of a sell.
The whole idea of selling clothing on Instagram through a "real person" has even coined its own term: "brand-ships." As you may be able to guess, this is the merging of branding and friendships, and it's exactly what you need to do if you want to be a successful clothing brand on Instagram. The idea is to act more like a friend on social media to your customers. It helps if you have a powerful influencer at the helm of your brand who people can aspire to and relate to.
The other key component of becoming a successful Instagram fashion brand? Sell clothing that people want to wear on the regular and clothing that people want to post on Instagram. This concept makes sense: If you're going to sell your clothes on Instagram, you'll want to make sure that the clothing you sell is something trendy enough to be posted by your followers. It's also a simple way to gain free brand awareness.
Another important factor? Price point. Most Instagram-successful fashion brands offer clothing at relatively affordable prices Since most of the audience on Instagram skews on the younger side (teens, 20s, and 30s), companies know that they need to produce more amounts of clothing to keep up with the trends and offer that clothing at accessible prices.
One amazing example of a mega successful Instagram fashion brand that sells its clothing at super low prices is Fashion Nova. Over the past few years, the urban-influenced fashion brand has racked up over 15 million followers, thanks to its aggressive celebrity marketing plan including Kylie Jenner and Cardi B, and its model of offering low prices and constantly churning out new styles. According to a recent New York Magazine article, Fashion Nova offers around 1,000 new styles every week and probably posts about each one on its Instagram account.
On top of using heavy celebrity marketing on its clothing, the brand has started tapping its own customers as brand ambassadors. Known as "Nova Babes," these are just straight up fans of the brand who don't get paid at all by Fashion Nova to promote its clothing. The reward for these free models is just the pure pleasure of seeing their Instagram photo wearing a "Fashion Nova fit" posted on Fashion Nova's Instagram page. In essence, Fashion Nova has become such a big Instagram brand that it constantly generates free advertising.
That's not to say Fashion Nova doesn't see its share of controversy. A recent report by Fashionista discovered that Fashion Nova customers have started to notice that some of the items they receive from the brand are actually the exact same items sold at massive retailers like Rainbow. The only difference between the Fashion Nova dress and the exact same one sold at Rainbow is that the Fashion Nova piece was sold for a much higher price. The practice of retailers sharing the same labels and manufacturers (and eventually yielding identical pieces) probably isn't so shocking to those who work in the fashion industry, but before social media became so prominent, customers were in the dark about this. Now that everyone has a platform to say whatever they'd like, customers are smarter and more investigative about where their clothing is coming from and how it's being made.
Which brings us to a brand like Everlane. Because social media offers a platform to show full transparency, Everlane made a huge name for itself on that exact concept. Rather than focus on churning out massive amounts of clothing at low prices, Everlane founder Michael Preysman decided he was going to create high-quality, somewhat expensive basics that offer full transparency on the methods on how the clothing is made and who is making it.
Everlane launched as a counter brand to popular mass retailers like Gap and H&M. Instead of selling a basic sweater at $60 and hiding the fact that the sweater was made in a factory in China with poor working conditions, Everlane will sell a higher quality identical-looking sweater at $100 and use social media to promote it. But instead of simply promoting the sweater, the company uses social media to give customers inside looks at the factories used to make the sweater, the fabrics used and where they are sourced, and the actual people who make it. In an age where millennial shoppers are always looking for the more ethical choice (and don't mind spending more for it), Everlane hit the nail on the head with its Instagram marketing scheme.
But while new and millennial-focused fashion brands are thriving on Instagram, what does this mean for storied brands like Chanel and Burberry? High-fashion retail brands seem to have found it the most challenging to translate their brand to the Instagram audience, yet they know it's become increasingly more important to do so. So far, the biggest move high fashion brands have made is to heavily promote the newest seasons on Instagram during the many fashion weeks that occur in different locations two times a year. Also, brands like Adidas and Coach have leveraged the use of celebrities with large Instagram followings, Kylie Jenner and Selena Gomez respectively, to promote their expensive products on Instagram.
But the question remains as to how these seemingly out-of-touch brands will resonate with millennials, and possibly more importantly, Generation Z. How can older brands pick up the steam that newer, younger fashion brands have picked up on Instagram? It's a concern they should always have at the forefront of their mind as their customers phase out from those who used to consider it a pastime to stroll down Fifth Avenue and browse stores to those who do all their shopping on their couch as they scroll through their feed.