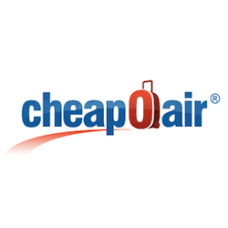 CheapOair Coupons, Deals and Promo Codes
34 Verified Coupons for April 23, 2021
Memorial Day Savings - 35% Off Fees on Flights
expires: 06/05/2021
Used 19 times
Mother's Day Savings! Save Up to $30 Off Fees on Flights
expires: 05/15/2021
Used 1 time
Special Car Deals! Take Up to $10 Off Fees
expires: 04/30/2021
Used 1 time
Beach Travel Deals! Sunny Weather's Around the Corner: Up to $35 Off Fees on Flights
expires: 06/30/2021
Used 44 times
Countdown to Spring Break - Get Up to $18 Off Fees on Flights
expires: 04/30/2021
Used 5 times
Spring Into Savings - Up to $30 Off Fees on Flights
expires: 04/30/2021
Used 14 times
London Travel Deals - Up to $24 Off Fees on Flights
expires: 12/30/2021
Used 13 times
Save Up to $24 on Honolulu Travel Deals
expires: 12/30/2021
Used 3 times
Maui Travel Deals - Up to $24 Off Fees on Flights
expires: 12/30/2021
Used 12 times
Orlando Travel Deals - Up to $24 Off Fees on Flights
expires: 12/30/2021
Used 3 times
Denver Travel Deals - Up to $24 Off Fees on Flights
expires: 12/30/2021
Used 1 time
Los Angeles Travel Deals - Save Up to $24 Off Fees on Flights
expires: 12/31/2021
Used 8 times
Cancun Travel Deals - Save Up to $24 Off Fees on Flights
expires: 12/30/2021
Used 1 time
Ho Chi Minh City Travel Deals - Save Up to $24 Off Fees on Flights
expires: 12/30/2021
Used 7 times
Save on New Delhi Travel Deals - $24 Off Fees on Flights
expires: 12/30/2021
Used 2 times
San Juan Travel Deals - Save Up to $24 Off Fees on Flights
expires: 12/30/2021
Used 1 time
New York Travel Deals - Save Up to $24 Off Fees on Flights
expires: 12/31/2021
Used 2 times
Manila Travel Deals - Save Up to $24 Off Fees on Flights
expires: 12/31/2021
Used 2 times
Book Cheap Flights From Over 600 Airlines - Save Up to $16 Off Fees on Flights
expires: 12/31/2021
Used 1 time
Save Up to $20 Off Fees on Flights
expires: 12/31/2021
Used 5 times
Up to $16 Off One-Way Flights
expires: 12/31/2021
Used 2 times
Save on First Class Airfares Save Up to $100 Fees on Flights
expires: 12/31/2021
Used 14 times
Up to $60 Off Package Getaways
expires: 12/31/2021
Used 2 times
Getaway to Beautiful Mexico - Take Up to $24 Off Fees on Flights
expires: 12/31/2021
Used 1 time
Cheap Fares To Top 20 Spots - Take Up to $20 Off
expires: 12/31/2021
Used 12 times
See the World for Less - Take Up to $24 Off Fees on Flights
expires: 12/31/2021
Used 2 times
Take Up to $24 Off Fees on Flights
expires: 12/31/2021
Used 9 times
Up to $50 Off Airline Deals
expires: 12/31/2021
Used 5 times
Roundtrip Flight Deals: Save Up to $20 Off Fees on Flights
expires: 12/31/2021
Used 2 times
Up to $100 Off Business Class Deals
expires: 12/31/2021
Used 3 times
Cheap Hotel Deals - Save Up to $10 Off Fees on Hotels
expires: 12/31/2021
Used 3 times
Special Flight Deals - Save Up to $30 Off Fees on Flights
expires: 12/31/2021
Used 16 times
Roundtrip Fares Under $199
expires: 12/31/2021
Used 10 times
Now Book With Confidence on American Airlines! Start Saving Now and Enjoy Travel Later
expires: 12/31/2021
Used 4 times
CheapOair FAQ
Q:

Does CheapOair offer price matching? 🏷️

Make sure you price shop because if you find a cheaper price on a competitor's site within 24 hours of booking, CheapOair will refund you the difference.

Q:

Can I get deals by calling in? 🛍️

Call 1-800-566-2345 for deals that are too good to be published on the site.

Q:

How many promo codes can I use at once? 🔖

Keep in mind that you cannot combine a promo code with any other offer.

Q:

What's the best way to book a spontaneous trip?

Need a vacation but not sure where to go? Browse flights under $199.

Q:

Are there any coupon codes or deals available for CheapOair? 🛍️

Goodshop has 34 active coupon codes and deals for CheapOair today.
Expired Coupons
St. Patrick's Day - Up to $27 Off Fees
Someone
just earned Cashback on CheapOair