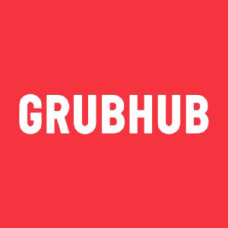 GrubHub Coupons, Deals and Promo Codes
39 Verified Coupons for April 19, 2021
Coupon Code for 25% Off First $15+ Order in the App
expires: ongoing
Used 111 times
Coupon Code for Free Shipping on Orders Over $15 for New Customers
expires: ongoing
Used 138 times
Coupon Code for Free Shipping on Orders Over $15
expires: ongoing
Used 113 times
$7 Off $12 Orders
expires: ongoing
Used 252 times
Coupon Code for $10 Off First Delivery Order of $15 or More
expires: ongoing
Used 1 time
Coupon Code for $12 Off Your First $15 Order Using App
expires: ongoing
Used 2 times
Coupon Code for $12 Off $15 Your First App Order
expires: ongoing
Used 2 times
Coupon Code for $12 Off First-Time Grubhub App Orders of $15+
expires: ongoing
Used 1 time
Coupon Code for $10 Off Your First-Time App Order of $15+
expires: ongoing
Used 1 time
Coupon Code for $10 Off $15 New App Order
expires: ongoing
Coupon Code for $10 Off $15 New App Order
expires: ongoing
Coupon Code for $10 Off First Time $15+ Order With the App
expires: ongoing
Used 1 time
25% Off $15+ With App
expires: ongoing
Used 63 times
Coupon Code for $10 Off Your First Order
expires: ongoing
Coupon Code for $10 Off First Order
expires: ongoing
Used 3 times
Coupon Code for $12 Off for New Diners on the App
expires: ongoing
Used 3 times
Coupon Code for $12 Off Your First App Order of $15+
expires: ongoing
Used 2 times
Coupon Code for $12 Off $15 for All New Dinner App Orders
expires: ongoing
Used 6 times
Coupon Code for $10 Off $15 New App Order
expires: ongoing
Coupon Code for $10 Off $15 for 1st Time Customers on Mobile App
expires: ongoing
Coupon Code for $10 Off $15 New App Order
expires: ongoing
Used 1 time
$10 Off First App Purchase of $15+
expires: ongoing
Used 49 times
Coupon Code for $10 Off Your First Order
expires: ongoing
Coupon Code for $10 Off All New Diners With the App
expires: ongoing
Used 3 times
$5 Off App Orders of $10 or More
expires: ongoing
Used 141 times
Coupon Code for $5 Off Your Delivery When You Use App
expires: ongoing
Used 2 times
$10 Off $15 for New Diner App Orders
expires: ongoing
Used 18 times
Coupon Code for $12 Off Your First-Time Grubhub App Order of $15+
expires: ongoing
Used 6 times
Coupon Code for Free Shipping on Orders Over $15 for New Customers
expires: ongoing
Used 5 times
Coupon Code for Free Shipping on Orders Over $15 for New Customers
expires: ongoing
Used 4 times
Coupon Code for Free Shipping on Orders Over $15 for New Customers
expires: ongoing
Used 4 times
Coupon Code for Free Shipping on Orders Over $15 for New Customers
expires: ongoing
Used 5 times
New Customers: Free Delivery on Orders $15+
expires: ongoing
Used 14 times
Try a 14 Day Free Trial of GH+ and Get Unlimited Free Delivery on Orders of $12+ and 10% Cashback
expires: ongoing
Used 11 times
$10 Off Your First Order With Registration
expires: ongoing
Used 2 times
Order Red Lobster
expires: ongoing
Used 8 times
Mobile App
expires: ongoing
Used 12 times
Coupon Code for $7 Off Your Order With App
expires: ongoing
Used 1 time
Coupon Code for $10 Off Minimum Order $30+
expires: ongoing
Used 2 times
$5 Off $15+ With Coupon Code
expires: ongoing
Used 2 times
$12 Off on $15+ With the App
expires: ongoing
Used 2 times
$12 Off W/Promo Code
expires: ongoing
Used 3 times
GrubHub FAQ
Q:

What's the best way to save?

The GrubHub website always has the most up-to-date coupon listings, and you can filter coupons in the app as well. New users save $10 on their first order, so even if this isn't your first time ordering from GrubHub, if your dining companions are new to the app, they can get the $10 promotion for the order themselves. You can also get coupons for downloading the app, or signing up for the email list. Plus, some local restaurants will have deals through GrubHub as well, so you can save that way too.
There is! When you download the GrubHub app, you'll not only be able to order from your phone, you'll receive a $10 GrubHub coupon to be applied to your first mobile purchase, if you spend more than $15.

Q:

Are there memberships?

Yes! Learn more about GrubHub+.

Q:

Are there special deals available through an email list? 🛍️

Yes, there is! New subscribers to the email list earn a $12 GrubHub coupon, which will be sent to your email address. You'll also receive additional promotions and coupon codes as long as you subscribe to the newsletter.

Q:

Do they have status-based discounts for students, teachers, active military, or veterans? 💸

There are! Students with verified status are privy to exclusive deals and discounts through a special student-only discount code.

Q:

Do they have a referral program? 🗣

Yes, and you can earn up to $12 per friend you refer. When you send your friends to GrubHub, they can enter your personal code and not only will they still recieve the $10 new user coupon, but you'll receive a $12 referral coupon as well after they make their first purchase, to be used on purchases over $15.

Q:

How do I contact customer service? 📞

The Customer Care page is the simplest way to contact GrubHub with app questions, as well as other concerns like terms and conditions, coupons, etc. If you'd like to speak with someone on the phone, call 1-877-585-1085, and if you'd like to contact them online, you can connect on social media, or there is a customer service live chat feature. Live chat assistance is available 24/7.

Q:

Are there any coupon codes or deals available for GrubHub? 🛍️

Goodshop has 42 active coupon codes and deals for GrubHub today.
Expired Coupons
Free Delivery on Orders of $15+ at Five Guys

Free Delivery on Orders of $15+ at Smokey Bones

Free Delivery on Orders of $20+ at Roti

$5 Off Orders Over $30 - New Diners Only at California Pizza Kitchen

Free Delivery on Orders of Wings at Pizza Ranch
Someone
just earned Cashback on GrubHub