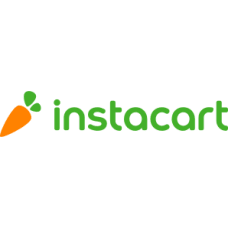 Instacart Coupons, Discounts and Promo Codes
10 Verified Coupons for
November 30, 2022
Updated November 28, 2022
When You Like Your Cat More Than Most People - Get Delivery As Fast As 1 Hour Plus Free Delivery on First Order
expires: ongoing
Used 10 times
Last Used less than a minute ago
New Customer: Sign-Up and Get Free Delivery on Your First $10+ Order Orders
expires: ongoing
Used 12 times
Last Used 10 days ago
Get OMG Hair With Haircare Must Haves Delivered in As Fast As 1 Hour - Pay Later With Klarna
expires: 12/31/2024
Used 4 times
Last Used 2 months ago
Glow Up Like a Goddess With Beauty Essentials Delivered in As Fast As 1 Hour - Pay Later With Klarna
expires: 12/31/2024
Used 5 times
Last Used 2 months ago
Late-Night Hours Mean Late-Night Snacks - Get Snacks in As Fast As 30 Mins Using Priority Delivery
expires: ongoing
Used 5 times
Last Used about 1 month ago
Use Your EBT SNAP Benefits on Select Orders - Stay Home and Skip the Lines With Grocery Delivery
expires: ongoing
Used 8 times
Last Used about 1 month ago
Same-Day Delivery
expires: ongoing
Used 193 times
Last Used about 1 month ago
Get Groceries Delivered From Your Favorite Stores With Instacart
expires: ongoing
Used 185 times
Last Used about 1 month ago
Coupon Code for $10 Off Any Store - Instacart Coupon Code
expires: ongoing
Used 2 times
Last Used about 19 hours ago
Coupon Code for $40 Off First $100 Klarna Order
expires: ongoing
Used 8 times
Last Used 1 day ago
Coupon Code for $20 Off First Order With Coupon Code
expires: ongoing
$20 Off Orders $30+ With Code
expires: ongoing
Used 3 times
Last Used about 9 hours ago
$20 Off Orders $30+ With Code
expires: ongoing
$20 Off Sitewide With Code
expires: ongoing
Used 2 times
Last Used about 19 hours ago
$20 Off Orders $59+
expires: ongoing
Used 2 times
Last Used 26 days ago
$10 Off Sitewide W/ Code
expires: ongoing
Used 2 times
Last Used 24 days ago
$20 Off Sitewide With Promo Code
expires: ongoing
$10 Sitewide With Code
expires: ongoing
Used 4 times
Last Used 9 days ago
$20 Off Sitewide
expires: ongoing
$20 Off Your First Order With Promo Code
expires: ongoing
$5 Off Your Order Sitewide
expires: ongoing
$20 Off Sitewide With Code
expires: ongoing
Used 2 times
Last Used about 9 hours ago
Coupon Code for $20 Off Your First Order + Free Shipping With Code
expires: ongoing
Used 20 times
Last Used 21 days ago
Coupon Code for $20 Off Orders + Free Instacart Delivery Fee
expires: ongoing
Used 58 times
Last Used about 1 month ago
Coupon Code for $20 Off Sitewide Order + Free Shipping
expires: ongoing
Used 75 times
Last Used about 1 month ago
Expired Coupons
Grab Last-Minute Essentials With Free Delivery on First Order

Shop Turkey, Cranberry Sauce, and All Your Feast Ingredients With Free Delivery on 1st Order

Free Delivery on First Order When You Spend $10
Instacart Shopping Tips
Sign up to goodshop.com and enjoy access to the latest deals and coupons.

Same-day delivery in several locations, including New York, Los Angeles, Chicago, plus many others.

Get exclusive deals by shopping through Instacart.

Shop top brands such as Ben & Jerry's, Pepsi, Kettle Crisps, Cottonelle, etc.

Fresh produce is picked to give you the best groceries.

Schedule deliveries to fit your lifestyle, including early and late slots where possible.

Use the Instacart app to manage everything from your smartphone.

Choose preferred replacement options to avoid surprises.

Track your order and delivery in progress.
More FAQs for Instacart
How do I save money by shopping with Instacart?
Instacart offers a range of cost-saving options via its retail partners. You can get exclusive deals through the platform and take advantage of same-day delivery to save you using the car or public transport to the store. You can also find coupons, offers, and discounts on goodshop.com. There are coupon codes available that give you access to special offers. Plus, you can also earn up to 2.5% cashback when shopping with Instacart.
How does Instacart work?
Instacart is a simple way to shop your favorite groceries online. The brand has partnered with well-known grocery stores and retailers, including Walmart, Aldi, Costco, Loblaw, Sprouts, and many more, to bring you excellent value and choice for your everyday essentials.
How do I place an order?
To use Instacart, you need to create an account. Once you've signed up, you can browse items and place them into your cart, much like when you go shopping in the store. Once you have everything, review your cart and checkout. If you have selected items from different stores, you will need to pick a delivery slot for each store, as they may vary in availability. Then pay for your goods and await their delivery. Simple!
Will there be alternatives selected if an item is out of stock?
You can choose from a variety of options if an item is not available. There is the option to select to replace it with the best match item in your account or choose a suitable replacement. There is also a 'don't replace' option, and this will issue a refund if the item is out of stock.
Will I get the same deals as in-store offers?
Retailers set the prices on Instacart items so you may get the same deals as what is offered in-store, but there may be some differences. Some retailers set the price to include the fee for the Instacart service so that they may be slightly higher than in-store. Pricing policies can be found on the website.
How do I use coupons on Instacart?
Coupons are sometimes available for retailers and products. These will need to be added to your account before you apply it to an order. To view your coupons, head to the Promo Codes section to see active offers.
Does Instacart have an app?
Yes. You can shop Instacart via the website or the app. Everything can be managed from your dashboard. The app is available for download via the Apple App Store and Google Play Store.
Can I shop from local retailers?
Yes, Instacart has the option of choosing to shop at local retailers using the Instacart Express service. There is an annual charge of $99 or a monthly fee of $9.99 for this membership. This service has exclusive benefits, including free delivery of orders over $35 and typically reduced service fees. You can also shop at various local stores and still get free delivery on orders (terms apply, see website for details).
Can I change my order when it is in progress?
Yes. Instacart gives you a personal shopper for your order, and if it is in progress, you can chat with them via the chat bubble. You can make changes and select replacements, and add notes if required. If the personal shopper has not started your order, you can change it before they start picking.
How do I contact Instacart if I have a problem?
Instacart has a dedicated customer care team to answer your questions. You can call or email, and contact details are available on the website and app. There is also a comprehensive Help Center that answers common queries.
How to Shop at Instacart
Get the products you love delivered directly to your door in as little as one hour
Order the products you love and get them delivered directly to your door, sometimes within the hour. Using Instacart, you can enjoy same-day delivery of 1000's of products and save time and money on everyday purchases. You'll also find exclusive deals and coupons on tons of items, and you can save even more with goodshop.com.