Our 4 Favorite Food Delivery Services
Long gone are the days when getting food delivered to your door was limited to cardboard-crusted pizza. Now that we're living in the age of apps, we've got choices…lots and lots of choices. Delivery services are becoming a big deal, with more and more popping up every day.
With these apps, all you have to do is input your location to see hundreds of restaurants in your area from which the delivery service will fetch you your feast, quickly and sometimes without a fee. And, you're also no longer limited to getting just food delivered to your door. There are now delivery service apps that will not only bring you dinner, but also deliver your groceries, alcohol and dry cleaning.
But, like any industry early in its development, not all delivery services are created equal. Here are a few of our favorites we think are on the right track.
GrubHub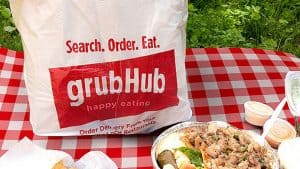 GrubHub is perfect for the diner who doesn't want to be limited in choices, as it offers delivery from over 30,000 restaurants in more than 800 U.S. cities. It allows you to browse by city, address, cuisine, menu item or specific restaurant. You can then filter by hours open, customer reviews, coupon deals and more to narrow down your results. It also lets you save your ordering details for future orders. Check out coupons and deals for GrubHub here.
 EAT24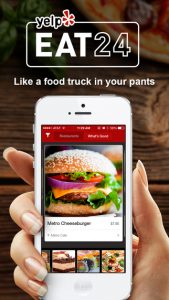 EAT24 describes itself as "a food truck in your pants," which, being a fan of both food trucks and catchy tag lines, I kinda love. It has over 20,000 restaurants in more than 1,500 cities (with more being added all the time). One of my favorite parts of this app is its unique "What's Good" feature, which uses an algorithm to pick out the very best dishes for you based on popular items, local tips and user reviews. This handy dandy app also lets you to use your phone camera to scan your credit card through the app. Be sure to use coupons and deals for EAT24 here.
DoorDash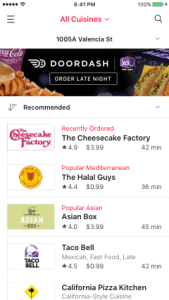 DoorDash is one of the older food delivery apps. It's available in 450+ cities in 35 markets in the US and Canada. The service is unique in that it provides a "Yum" rating on restaurants, which will give you the restaurant's score by factoring in not only the quality of food, but also how well the restaurants work with DoorDash to get your food out and on its way. While it's not perfect, it's further along than most food delivery apps. Get coupons and deals for DoorDash here.
 Delivery.com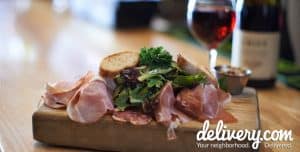 Earlier I mentioned those delivery apps that do more than just deliver groceries. Well, Delivery.com is one of them. The app features over 10,000 local businesses where you can get food, alcohol, groceries, laundry and dry cleaning delivered right to your door. You just put in your address and this app shows you what businesses are around you. All you have to do is also filter by cuisine choice, reviews, or the shortest time it will take to arrive. Delivery.com doesn't charge you a fee to use its service, but restaurants may charge a delivery fee or have an order minimum. Get coupons and deals for Delivery.com here.