If you're like me, you might be feeling a little sad that it's almost time to say goodbye to the sandals and sundresses and start thinking about layers and long sleeves. But, I think I have some news that'll brighten your end of summer blues…
Fall fashions are on fire! Fall 2017 promises to provide you with some fashions trends that you're sure to love. We've highlighted a few below to give you a little taste of the terrific trends coming your way!
Get Ready to Be Seeing Red
Red is all the rage for fall, and fashions week designers weren't shy about showing red on red on red. Bright cherry red seems to be the "it" shade of the season, but this trend is all about using the entire scarlet spectrum in one single outfit.
We fell head over heels for these Mayae Suede Pointed Toe High Heel Booties.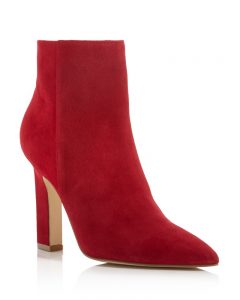 Get them and other rockin' red looks at Bloomingdales.com. Be sure to use these Bloomindale's coupons, offers and promo codes to save.
Say It with Statement Jeans
Get ready to make a statement with statement jeans because they're so in and so cute this fall. We've moved on from just the torn knee look (totally last year), and are seeing new fall denim fashions pop up that are playing with prints, embellishments and more.
One of our favs is the Eyelet Detail Straight Leg Jeans from Missguided.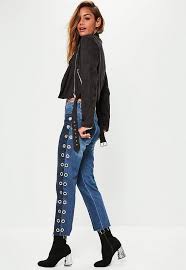 Get this and other daring denim fashions at Missguided.com. Don't forget to use these Missguided coupons, promo codes and offers to save!
 Everything's Coming Up Floral
Thought you'd be saying "farwell" to florals come fall? Think again! Florals are moving forward for fall and we're all for it! And you won't have to look very hard to find ways to rock this romantic style. Floral prints are showing up on dresses, skirts, blouses, pants, purses and even boots and shoes!
A great way to play with this pretty look is with the Soft Surroundings Midnight Blooms Top.
Find this and other fab florals at Softsurroundings.com. And, of course, you gotta use these Soft Surroundings offers, coupons and promo codes to save!
Show Your "Va Va Voom" with Velvet
Velvet is oh, so very in this fall, and designers have been busy dreaming up new ways to showcase this decadent fabric. You'll see everything from velvet blazers and tops, to velvet boots and purses, and everything in between. Plus, you don't have to keep your velvet look limited to just rich jewel tones. Velvet in blush pinks, bold yellows and baby blues are bringing new luxurious looks onto the scene, too.
We're crushing on this Dhalia Velvet Duster by Free People.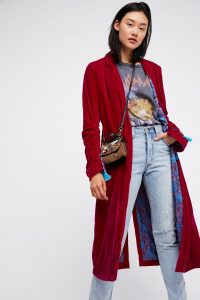 Buy it at Freepeople.com. Be sure to save with these Free People coupons, promo codes and offers.