Never underestimate the power of the perfect pair of baby blues…blue jeans, that is! I know that few things make me feel more confident than a comfy pair of jeans that compliment my every curve. The drawback? Shopping for, and actually finding that rather elusive pair of "perfect jeans." It's a process that can be a bit confusing at best, and completely exasperating at worst.
Well, per usual, I'm here to give you some tips. I've made a handy dandy guide of body types and jean styles to help you turn this potentially stressful process into one that'll have you sruttin' your strong n' sexy side  in no time!
You Have a Tummy…
If this applies to you, you'll have your best results in a moderate rise. Best to have the waistband hitting you just below your belly button. This will give you extra coverage on your stomach, and help slim your overall silhouette. Also, lots of fashion bloggers suggest a wide waistband and a bit of stretch to really help keep you feeling supported in your stomach area. Because, hey, there's just so much sucking in you can do, right? I relate!
As an example, I picked out these Red Engine Garnet jeans. They feature a generous cut at the waist, and slightly flared legs to offset extra width around the middle. Get them at Amazon.com. Make sure you use these Amazon coupons and offers to save.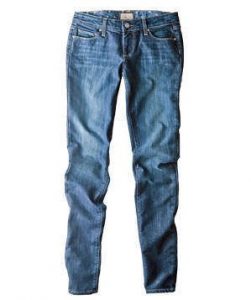 You Have an Hourglass Figure…
According to several online "jean matchmakers," the curvier you are, the more you should stick to jeans that are higher cut in the back to keep you well covered. Also, because all of you hourglass hotties tend to be smaller at the waist, be sure to look for contoured cuts that will hug you at the waist. This will help you avoid gaping in that area.
As an example, check out these Joe's Jeans Honey Booty Fit jeans. They feature a contoured cut and plenty of backside coverage. Get them at Nordstrom. Don't forget to use these Nordstrom coupons and offers to save.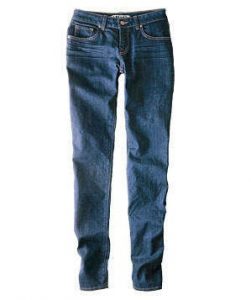 You Have a Straight Figure…
If this is your body type, you're darn lucky when it comes to having lots of options. Pretty much anything goes when it comes to rises and styles, so you can get away with low-riders, high-waisted cuts, and everything in between. Because jeans usually come with either a straight-across or a curved waist, you'll likely want to stick with the straight-across style, because curved waistbands can be uncomfortable and prone to gapping for you. If you want to create a more curvaceous look, stick with a pair that has a tighter, slimmer fit at the waist and hips, and then flares out below the knees, as this gives the illusion of extra curves.
As an example, take a look at these Rock and Republic Kasandra jeans that provide a fitted silhouette that flares out at the bottom. Get them at Kohl's, and be sure to save when you buy them by using these Kohl's coupons and offers.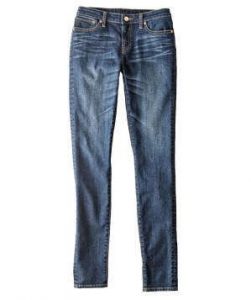 So, now that you've got a bit more direction when it comes to jeans shopping, you're ready to rock your perfect pair of baby blues like nobody's business. Because, hey, it's time you showed the world just how beautifully bad a*s you can be!