Since Amazon's recent announcement of their new meal kit subscription roll-out in the Seattle area, there's been much ado online about meal kits. If you don't already know about these, the typical meal kit program will mail you three nights' worth of fresh, proportioned ingredients and recipes. This lets you prepare home cooked meals from "scratch" minus the hassle of schlepping to the store, finding all the ingredients, and struggling with new recipes.
One of the first meal kit services was Blue Apron, started in 2012. Since then, a seemingly endless stream of competitors have entered the market, each touting their own unique gimmicks and recipes. Nowadays, you can find anything from vegetarian and vegan kits, to kid friendly and low carb.
But which is right for you? To help you narrow the field a bit, here are our 3 favorite picks.
 Blue Apron: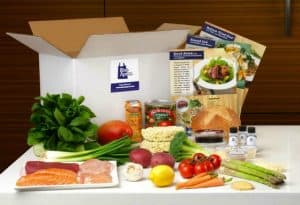 There's a reason Blue Apron is likely the best-known and most widely used service. It's been in the business long enough to smooth out the order & delivery process, making it incredibly easy and stress-free. You can set up an account online in no time, and you have a wide array of recipe options to choose from. Plus, it's cost is a big bonus point. It's priced at less than $10 per person, making it one of the lowest costing meal services available. To score extra deals and discounts at Blue Apron, use these Blue Apron coupons.
Green Chef: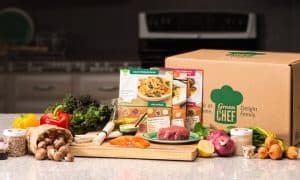 While most of the services focus on offering fresh, seasonal ingredients, Green Chef was the first to offer only USDA-certified organic meal kits. It allows you to prepare great tasting, socially-conscious dishes with minimal effort in a short amount of time. Like Blue Apron and other services, Green Chef does mail you all of the ingredients together in one bag. But everything comes with color-coded labels, making this step a lot easier and faster. Be sure to use these Green Chef coupons and offers to save.
Plated: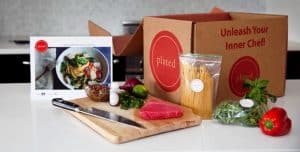 While Plated is not the cheapest meal kit out there, kit buyers can save around 12% as compared to buying the same high-quality ingredients from their local grocery store. In fact, it's their use of superior ingredients that earns Plated the all-around highest ratings for meal services. Plus, it's easily one of the most customizable meal service plans on the market. They offer two, three and four-serving options, and over 14 different dinner recipe options each week. Enjoy great savings and deals from Plated with Plated coupons and discounts.