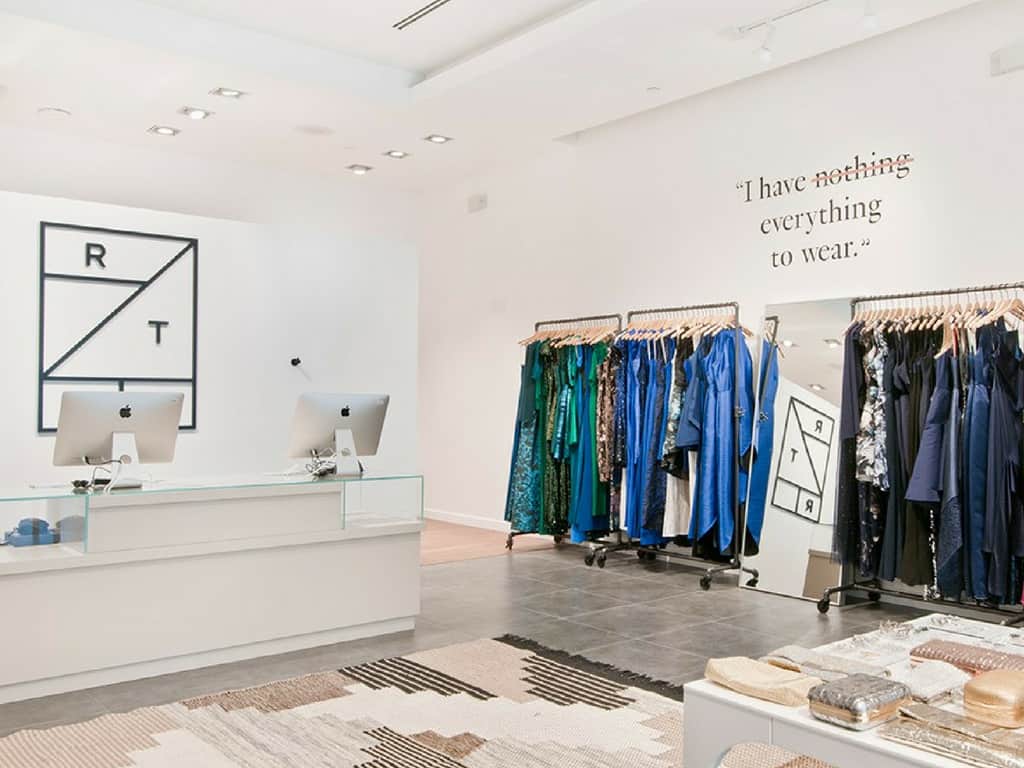 We'll never forget how stunned Carrie Bradshaw was to learn that her prospective assistant Louise was renting a Louis Vuitton purse, in the movie Sex and the City. And although Bradshaw eventually gifted Louise her own designer handbag, her assistant was onto something. It's hard to believe that was a decade ago, as renting fashion is becoming the new norm.
Shortly after the film was released, Rent the Runway stepped onto the scene with similar intentions and more product offerings. The start-up company set out to offer customers that couldn't afford designer apparel the luxury experience (keyword: experience). Initially, the women-founded company targeted special occasions, such as weddings and proms. However, RTR recently launched Unlimited and Update, subscription plans that allow users to rent on the regular.
Style Lend is another rental option for special occasion wear, however instead of renting from a warehouse you're renting directly from other women's closets. Both Style Lend and RTR feature fashion-forward, designer apparel. Meanwhile, other rental subscriptions, such as Le Tote (starting at $59/mo) and Gwynnie Bee (starting at $69/mo), cater to everyday attire with lower-priced plans and popular, affordable brands typically found in department stores. Le Tote offers maternity styles, while Gwynnie Bee is known for being size inclusive. Still, RTR's latest tier, Update ($89/mo), boasts a competitive price that will have you wanting to try on the finer things.
With the retail apocalypse—not to mention Amazon crushing everything in sight—it's safe to say brick-and-mortar retailers are paying close attention to the rental revolution. Earlier this year, Gwynnie Bee introduced CaaStle ("Clothing as a Service"), a platform that allows traditional retailers to implement their own rental services. Ann Taylor and New York & Company are among the first stores onboard, now offering Infinite Style ($95/mo) and NY&C Closet (starting at $49.95/mo), respectively.
This rental trend isn't exclusive to clothing. In fact, a number of car companies, including Volvo, Cadillac and Porsche, are now offering subscription services. According to Fast Company, "Subscription models, which provide more flexibility than a typical long-term lease, may give automakers a leg up in a retail landscape increasingly shaped by ride-hailing services." Joymode, on the other hand, is a Los Angeles–based rental service that offers experiences in the form of camping equipment, at-home movie night supplies and virtually anything you can think of. The company's tagline is "Do more. Buy less."
While Louise rented handbags (from Bag Borrow or Steal) because she couldn't afford them, today shoppers don't want to be carrying around all that baggage, even if they could. As we've mentioned before, consumers are valuing experiences over possessions. They are trading brand loyalty—even for coveted designers like Louis Vuitton—for an unbranded aesthetic. And finally, they are using their dollars to vote and support purpose-driven companies.

From a conscious consumer's standpoint, renting apparel (and other goods) just makes sense. In her bestselling book "The Life-Changing Magic of Tidying Up," Marie Kondo taught us how to purge everything that doesn't bring joy to our lives. This took a major hit to our closets, but we adapted with a capsule wardrobe: buying fewer, better basics built to last. Since then, we've been stuck in a bit of a limbo. We don't want to go back to our fast fashion ways, and yet the minimalist wardrobe can be a little, well, boring. By renting, we get to explore the latest trends in fashion and beyond without the commitment—or guilt.