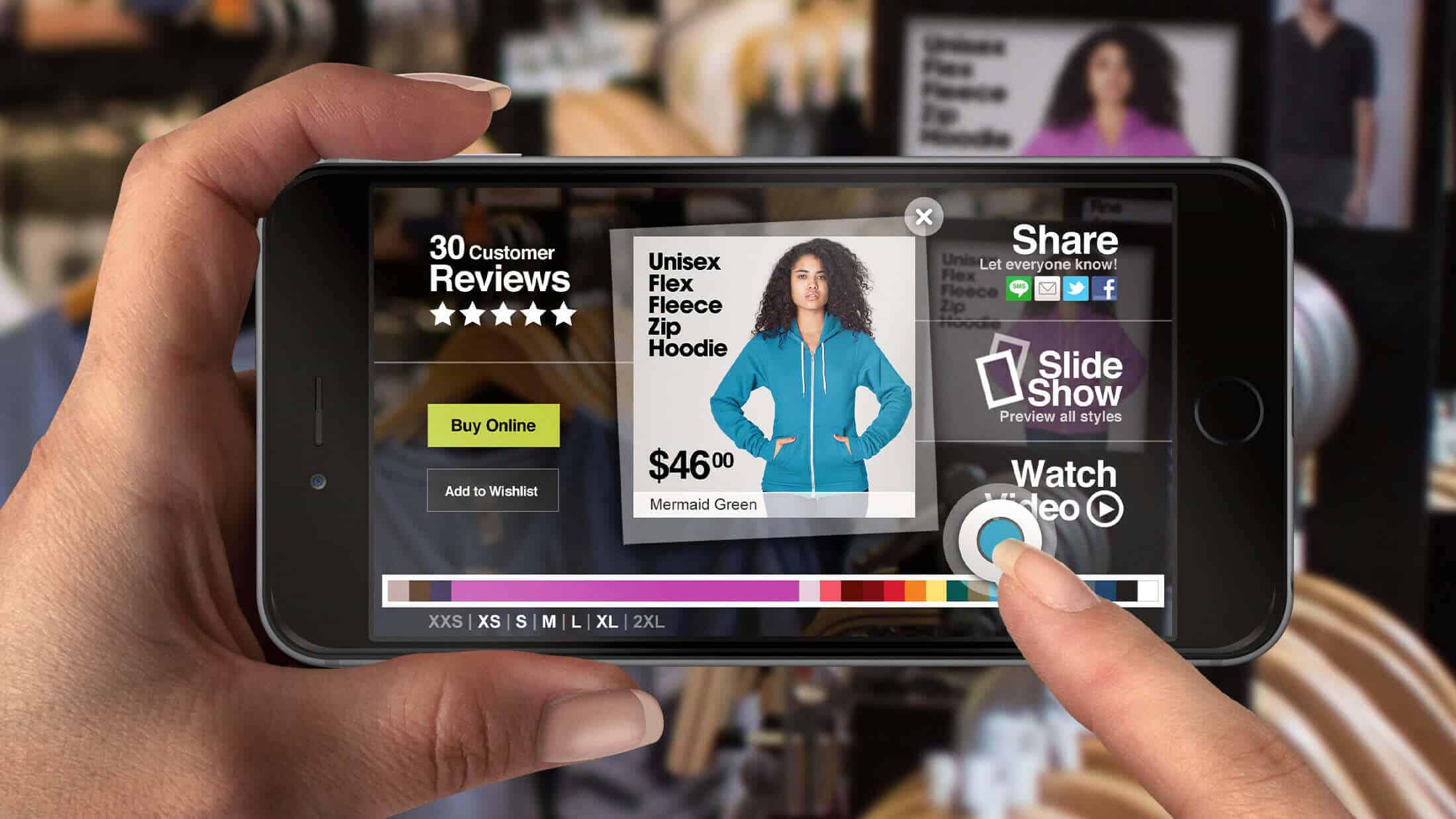 (Source: American Apparel)
Remember simpler times, when our news feeds weren't flooded with Snapchat-filtered selfies? Yeah, neither can we. And we're not judging: there's something liberating not having to stress over putting on makeup before a photo-op, when you can rely on the face-enhancing features of the popular social media app. Retailers are turning to similar technology to get customers back in their doors and, hopefully, reclaim their sales.
Snapchat filters are an example of augmented reality (AR), which Techopedia.com describes as "[combining] real and computer-based scenes and images to deliver a unified but enhanced view of the world." Pokemon Go, the viral app that sent users all over town to capture the mythical monsters on their phones, is another instance of AR. Both apps offer entertainment value—as well as an unexpected opportunity for brands to profit.
In the case of Pokemon Go, many local businesses took advantage of the action by offering players a discount when they captured creatures near or at their locations. "The game's real-world nature also gives Niantic another intriguing moneymaking possibility, by charging fast-food restaurants, coffee shops and other retail establishments to become sponsored locations where people are motivated to go to pick up virtual loot," adds The New York Times. As for Snapchat, brands sponsor an original filter, and last month the app introduced "Shoppable AR," which directs consumers to three different platforms (website, video or install) for advertisers to choose from. According to AdWeek.com, "The new features highlight Snapchat's continued push to make advertisers and companies consider AR lenses necessary for an overall marketing strategy, as opposed to a one-off usage case; it's also attempting to present itself as a solid company to advertise with."
So why should brands jump onboard the AR wagon? Here are three ways companies can benefit from the technology:
1. Brand-building
Some Augmented Reality features are purely entertaining, for instance Cheetos' Cheetos Vision app, which the PepsiCo snack company launched earlier this year at SXSW. "This kind of AR application is what you would call a stunt — a publicity stunt that generates buzz without offering something of any utility to consumers," notes Forbes. "The problem with stunts is that they do not inspire a lot of creative thinking about what you can learn from consumers using them." For this reason, brands might hesitate on spending money on a marketing tool that doesn't generate revenue.
Still, the opportunity to gain customer trust and loyalty remains. Stationary brand Bic launched an app called Drawybook that is more educational than a typical game app and allows children to explore storytelling and coloring creativity. "This is a nice example of a retailer using AR to connect and engage with consumers," Econsultancy.com points out. "It offers kids (and parents) something of real value, which in turn is likely to help the brand forge strong relationships with those that use it."
2. Enhanced in-store experience
Similarly, in an attempt to save itself from shuttering doors, Toys "R" Us utilized AR in its Play Chaser app, which brings toys to life  while in store. "The app isn't geared towards the shoppers who convert — it's targeted towards the end user: kids," observes Shopify.com.
Lacoste and American Apparel have also launched AR campaigns to encourage and engage in-store customers. They can use smartphones to scan an item or signage to get more info, such as on-model views of a product, reviews, price, variant colors, and even to virtually try on. Timerland and Topshop have also experimented with virtual fitting rooms to make the in-store experience more convenient and interactive.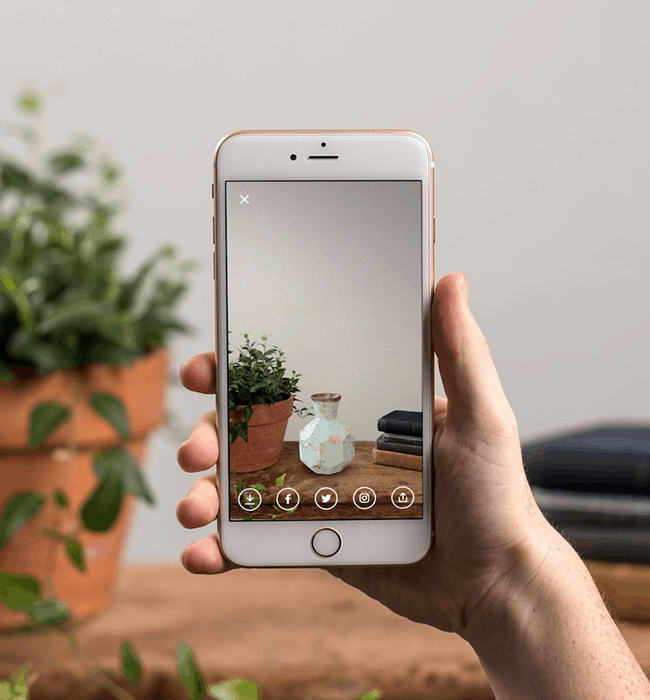 (Source: Magnolia Market)
3. Bring the store into customers' homes
For some brands, however, the goal is the opposite. Chip and Joanna Gaines, the stars of HGTV's Fixer Upper, opened up home-decor store Magnolia Market in their hometown of Waco, TX. Their app allows customers that can't visit the storefront to see how products would look in their homes before purchasing online or through the app. In fact, many interior design retailers, including IKEA, Anthropologie and Lowe's high-end online furniture store Mine, offer apps with similar features. The latter hardware chain takes the utility factor one step further by allowing customers to measure their walls and create shopping lists at home, then creates the easiest navigation route for when they come into stores to purchase.
"Home goods aren't the only try-at-home augmented realityexperiences," adds Shopify.com. "Gap also plans to bring the fitting rooms home with its DressingRoom by Gap app. And Converse has already done so with its Sampler mobile app, which lets shoppers virtually try shoes on at home, easily sharing the pictures to get purchase validation from friends." Considering the social factor is what makes the original, aforementioned apps like Snapchat and Pokemon Go so popular, it makes sense to offer similar incentives.
Beauty is another industry that benefits from at-home augmented reality. Similar to Snapchat's makeup-applied face scanners, Sephora and L'oreal both have apps that allow users to see how products will look on their selfies before purchasing—and without having to venture into the stores to test them. "While reviews have been mixed – some say it is no match for trying products on actual skin – there is an impressive amount of products to try out," says Econsultancy.com. "Meanwhile, it also serves as a bit of fun for consumers and yet another way for beauty brands like Sephora to provide entertainment and inspiration as well as the products themselves."
Augmented reality may become as commonplace to brands as a social media presence. Whatever the motivation, retailers need creative, innovative solutions to rekindle customers now more than ever, even if it means looking to a Japanese cartoon character for guidance. "As app developers start scrambling to make their own killer apps for augmented reality, though, they'll all be referencing Pokemon Go," Cnet.com suggests. "Not necessarily because it was the best use of AR, but it was the app everyone used. Its sheer viral force made it the universal touchstone, and the ultimate example of success."