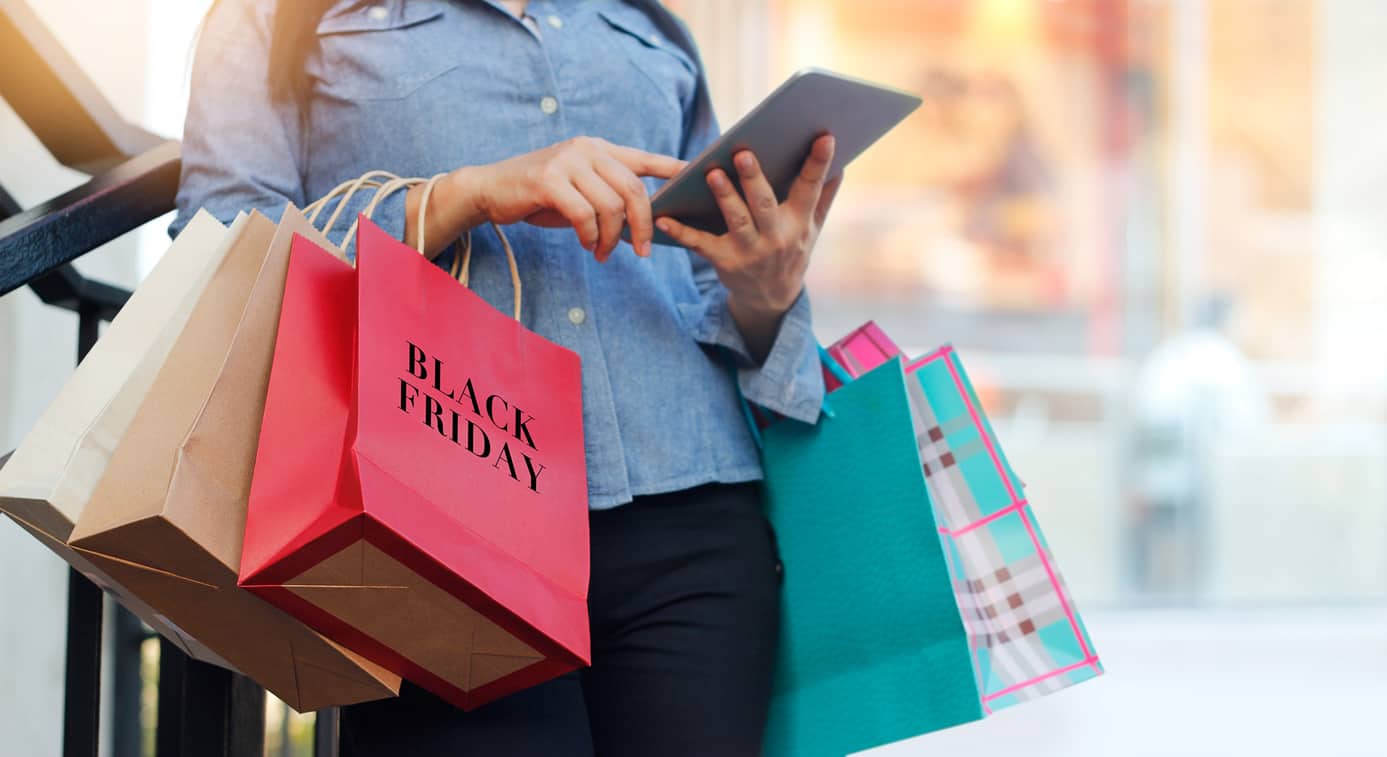 Black Friday boasts some of the best shopping deals of the year, every year. But to really get the most bang for your buck, you can't just show up at the mall or your local big box store. You need to have a strategy. Otherwise, you might end up getting trampled (literally—we've all seen those YouTube videos) or walk out empty handed since the early birds already got the TVs and big ticket steals. These nine smart tips will have you ready to shop on Black Friday like a pro.
Do your research. Though many retailers won't do a big reveal of their best sales until the day of Black Friday, there are plenty of stores who will do more than just teasers. Do some digging to see if your favorite shops and brands have announced anything on their website, and sign up for their newsletters and follow them on social media, where they tend to leak exclusive discounts. Also, download shopping apps now to see if they are offering any preview promos.
Consider Cyber Monday. Though Cyber Monday and Black Friday tend to get lumped together, many sites and retailers run totally different promotions. If you're planning to drop big bucks at Amazon, for example, keep in mind that an online retailer will most likely have the lowest prices on Cyber Monday. The same logic says that retailers that are brick-and-mortar will probably deliver the best offers on Black Friday.
Dress for success. Can you imagine sprinting across the mall in heels? We can't either. That's why you'll want to wear what you feel most comfortable in. You'll be on your feet for a loooong time while shopping on Black Friday Deals, so cozy, walkable shoes are a must. Remember that you might be standing in line for hours.
Create a budget. When it feels like everything is a crazy good deal, it's easy to just keep adding more and more to your pile. This is why it's crucial to sit down and decide exactly how much moolah you can spend on Black Friday Deals. Otherwise, it's easy to blow your budget at the first store you hit up. Be honest with yourself so that you're not still paying your Black Friday spoils off on your credit card long after the holidays are over. (And when you have to pay sky-high interest rates to your credit card company, that pretty much cancels out any Black Friday deals.)
Make a list. In the frenzy of Black Friday Deals, it's easy to get carried away and throw things in your shopping cart that you don't want or need. And the goal that day is to spend less—not more. Whether you're looking for a new laptop for yourself or hoping to cross off the Christmas list for everyone in your family, jot down exactly what you plan to buy on Black Friday Deals. Next, to streamline even more, write down the stores where you plan to make these purchases. It's easy to get distracted in the mall and not even make it to the first place you had in mind.
Pack some snacks. Though the food court can be tempting, it will probably be swarming on Black Friday. And remember you're there for the deals—not the food! To stay on goal, bring a few snacks that will keep you powered throughout the day. Think healthy bites that will deliver a sustained energy boost, like nuts, fruit or healthy granola bars.
Bring a buddy. The only thing that gets more attention than the deals on Black Friday is the lines out the door. While many of us would rather sleep in than stand in a queue while it's still dark out the morning after Thanksgiving, the insanely long lines are going to be a reality at many places. Having a friend in tow means he can stand in line while you peruse the shelves. Plus, a friend is the perfect person to turn to when you can't decide if you really need that video game or extra pair of shoes that seems super cheap for one day.
Review the return policies. In the heat of the moment, you might snatch up two blenders instead of one because the price was too good to be true. And when you get home and realize you made a mistake, it was. If you can't return that sucker then you're stuck with it—and the bill. Many retailers have special return policies just for Black Friday and other major sales. Sometimes the return window is shorter, there is a restocking fee, or you simply can't return it at all. Be sure to read the fine print before you make any purchases.
Save your receipts. Would you like the receipt with you or in the bag? You might want to think about the answer to that common question before you hit the first cash register. In case you have to make any returns or exchanges, having a receipt is crucial. It's easy for those small slips of paper to get lost in the shuffle on Black Friday. Decide on one spot to keep them organized and tuck them away neatly when you get home. That way you'll know exactly where to find them if and when the time comes to make a swap or return.