Even though swimsuit season is in full swing, now is actually the perfect time to get new swimwear. In a mad scramble to clear out summer inventory and make way for fall styles, retailers are offering some great savings on swimwear that you've got to take advantage of.
But, if you're like most women, finding the right swimsuit can be a struggle, so much so that many throw up their hands in frustration and just pick one, any one, and go with it. But, before you wave your white flag, we're happy to report that you don't have to settle for so-so when it comes to swimwear. We've got some tips and tricks to help you find the swimsuit that's best for your body type:
Pear Shape: You're curvy at the hips and thighs and smaller on top. Think J. Lo and Queen B (Beyoncé).
Most Flattering Fit: A suit that helps balance your proportions, giving you the coverage you need for your bottom half.
Try One Like This: I love this Tankini Top Scoopneck in Island Geo Print from L.L. Bean. Get this look and others just like it for less with these L.L. Bean coupons & deals.
Athletic: You're more straight up and down and have fewer curves. Cameron Diaz and Jennifer Aniston are good examples.
Most Flattering Fit: You've got to play up the curves you do have with styles that flaunt your frame. Go for styles with less coverage to help create the look of a shapelier figure.
Try One Like This: Check out suits like this Polynesia Halter Bikini from Athleta. Be sure to use these Athleta coupons to save more.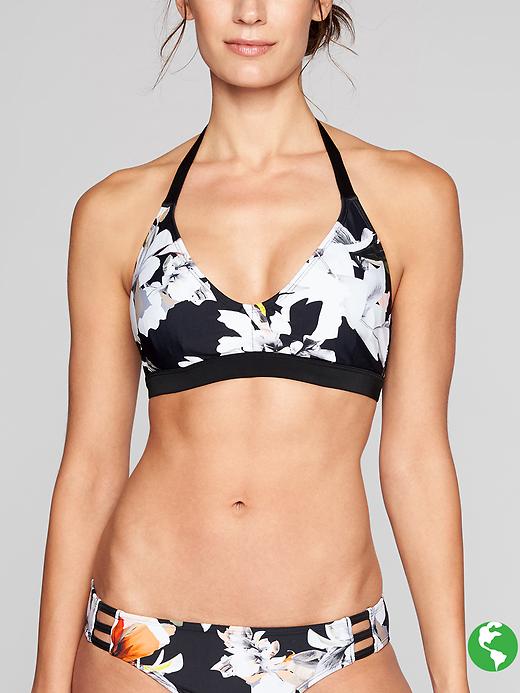 Large Bust: You've got ample cleavage and need more more support up top like stars Katy Perry and Sofia Vergara.
Most Flattering Fit: If you're busty, support on top is key. Look for suits with underwire or molded cups to give the girls the support they need. Avoid ruffles or embellishments up top if you're hoping to minimize the focus on your chest.
Try One Like This: The Seafolly Wrap Underwire Bandeau Bikini Top is a great example. You can get it at Nordstrom using these coupons for extra savings.
Apple Shape: You tend to carry your weight mostly in your middle, with less on your hips and thighs.
Most Flattering Fit: Whether you're looking for more tummy coverage or want a look that will slim your middle, try high-waisted or tankini styles.
Try One Like This: I really like this Pele Tankini Top in the Bright Turquoise Print from Title Nine. Here's some Title Nine coupons & deals so you can be sure to save.
So, now that you're armed with some handy tips and tricks to find your perfect swimsuit, it's time to shop and save! For more savings on swimsuits, be sure to check out our swimwear category page for more coupons here.